Midwest Motor Factors provides 'eggcellent' treat to local children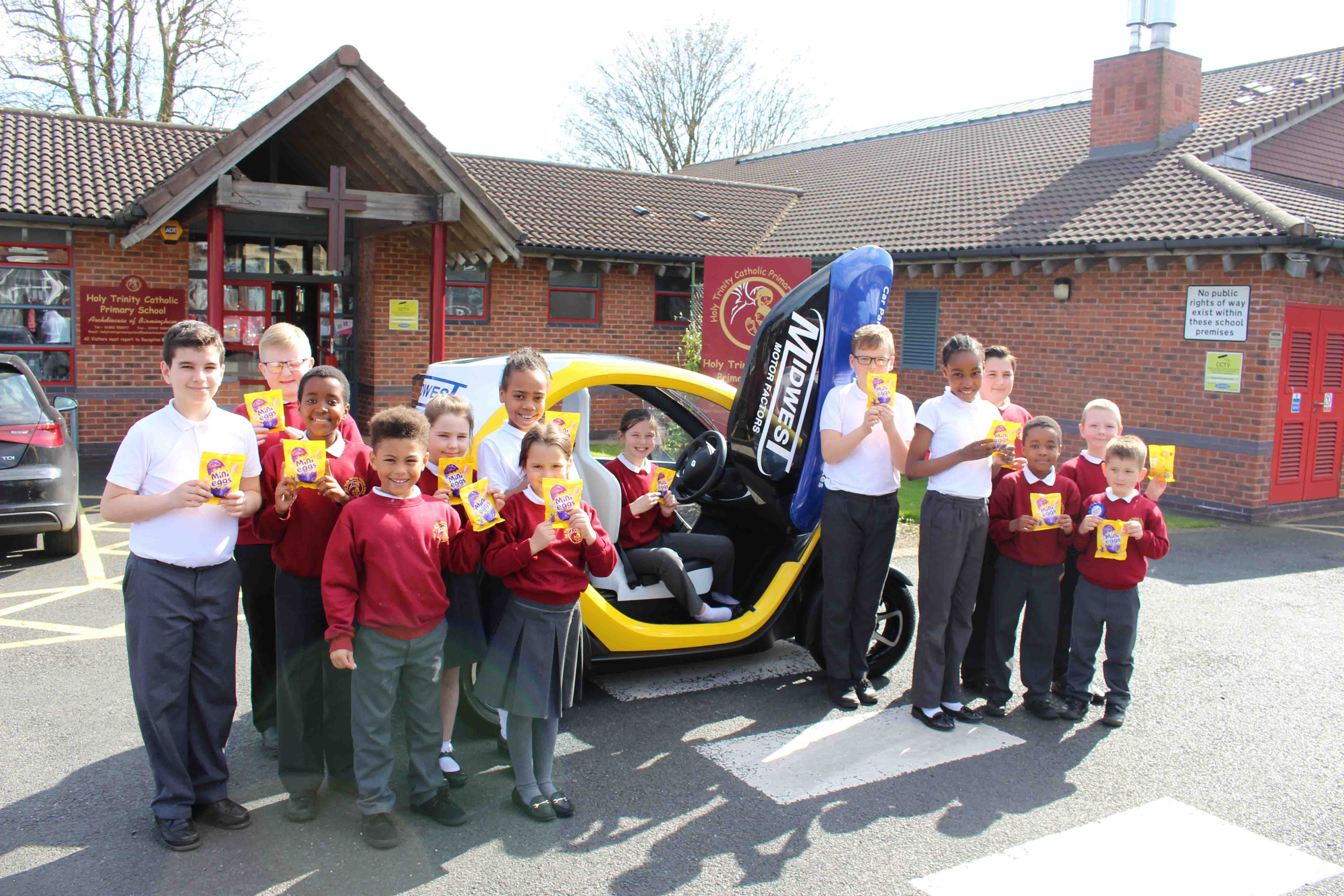 Midwest Motor Factors made a special trip to Holy Trinity Roman Catholic primary school this Easter to hand out a bag of Mini Eggs to each pupil while also letting the children explore its unique parts delivery vehicle, the Renault Twizy.
Each pupil was given the chance to sit in the Twizy one by one and then take part in a question and answer session with the Midwest team to learn more about the technology behind the electric vehicle.
Carroll McNally, head teacher at Holy Trinity, said: "It's been fantastic to welcome Midwest to Holy Trinity. They have been extremely kind in supporting our pupil's Easter work and the children have had a brilliant time coming to view and engage with the electric car. All in all it's been a fabulous afternoon."
The Renault Twizy is a twin-seater car that is powered by a 17bhp electric motor. The vehicle's battery can be recharged by plugging into any 220V power source.
Parking is free while charging at on-street charging points, leisure centres and City Parking multi-storey car parks. Electricity is also free.
The Renault Twizy has a 62-mile range on a full battery and it only needs £1 worth of electricity to complete a full charge. As Midwest has a large number of customers in Wolverhampton the vehicle enables the motor factor to complete rapid deliveries efficiently.
Simon Hodgkins, general manager of Midwest's Bilston branch, said: "We're always looking for ways to get involved in the local community and what better time than at time that celebrates unity such as Easter? The children are the community's future and it was great to see them so interested in this example of modern technology. We were kept busy throughout the afternoon answering plenty of questions from the intrigued pupils who were excited to learn more."
Midwest regularly gets involved with charity events and local sponsorships. It is currently sponsoring Bilston Town FC throughout the 2016-17 season as well as Wolverhampton Wolves based at Monmore Green Stadium throughout 2017 in British Speedway's top league, the Sky Sports Speedway Elite League.
The company started in 1980 in Willenhall, West Midlands. Today, the company employs 80 staff and has more than 40 vans operating out of a number of branches across the West Midlands alongside the award-winning Monmore Auto Parts branch, which is based in Wolverhampton.