Autoparts UK, Midwest Motor Factors, Monmore close to provide NHS resources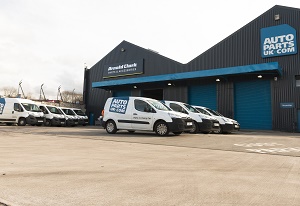 Autoparts UK, Midwest Motor Factors and Monmore Autoparts will temporarily close until at least Monday 13 April. As part of Arnold Clark, the company is making resources available to the NHS and frontline workers, including the provision of 400 vehicles free of charge. Arnold Clark employees have also responded to the government's call for help and are volunteering within the NHS and are also providing roadside recovery, emergency repairs and parts for all emergency vehicles where necessary.
At Autoparts UK, a team of 10 specialist parts people are in place to assist blue light workers. Each individual will identify the parts required, collect stock from the branch and deliver it to their premises or be available for collection. Autoparts UK, Midwest Motor Factors and Monmore Auto Parts have also supplied 10,000 disposable seat covers for use by NHS staff. At every Arnold Clark rental location, there are two vehicles being used by essential community groups to assist local people with food and supplies.
Craig McCracken, Group Factor manager, said: "We have been overwhelmed by the number of employees who have volunteered to support NHS staff. By closing our doors to the public and trade, we are in the best possible position to continue to support the NHS, government and local authorities with the vehicles, parts and servicing they need during this pandemic."