Apollo to introduce European truck tyre range at the CV Show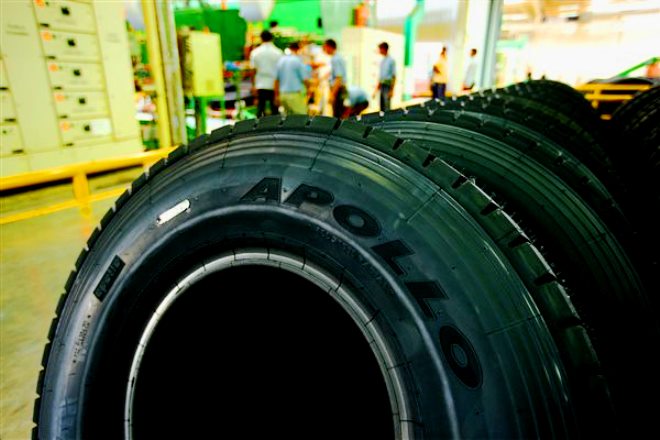 Apollo Tyres will make its CV Show debut with a stand at the event at Birmingham's NEC in April. At the same time the company plans to introduce its range of European market-orientated truck tyres as well as its strategy for engaging with the whole of the commercial vehicle sector. Several weeks ahead of the CV Show, Tyres & Accessories met up with Benoit Rivallant who is Apollo Tyres group head, global product management – commercial vehicle and off-highway tyre, to find out more.
T&A first met up with Benoit Rivallant (who cut his teeth in the tyre industry at Michelin) around two years ago. Back then Apollo was celebrating the launch of its first "Go the distance" tyre-based 3G football pitch alongside the Manchester United stadium at Old Trafford in Manchester. Manchester United and Apollo's mutual support of each other has continued during a couple of years that been less than the normal stellar performance for the football team. But now, days after United have won the EFL cup, both brands are optimistic about the future of their partnership. Irrespective of the reds' on-pitch performance – expectations about which have always been exceedingly high – both brands have always been consistent about their mutual commitment being a match that takes into account the big picture. "Both are going global, both like winning, both are champions and both are quality brands", Rivallant said.
And while there isn't a direct connection between football and truck tyres, the marketing metaphors are a useful way of illustrating the scope of Apollo's plans moving forward. Truck tyres have always been a key part of Apollo's business. Indeed the company was a truck tyre manufacturer first of all. Today truck tyre sales represent 47 per cent of the company's turnover and the company is number one in India with a commanding 25 per cent share of the world's third largest market. And India is an increasingly radial truck tyre market place too. While radialisation rates were still in single digit percentages five or so years ago, today the proportion of radials:bias tyres is nearer 40:60. This change continues apace due to the two-pronged market pressures of improved road infrastructure and legislative change. And this all puts Apollo in a strong position as a growing global truck tyre producer.
Then you have to consider the fact that Apollo is building a truck tyre plant in Europe – the first major tyre firm to do so for a decade. Much of the talk relating to Apollo's Hungary production base has revolved around its car tyre production plans and it is true to say that this kind of product represents the first phase of production. However, the second phase will follow closely after it and will begin to bring European-produced Apollo truck tyres to the market in around 2019.
With all this background in mind you can see why Apollo is introducing its truck tyre to the UK and wider European market now. According to Rivallant, Apollo will show "a number of tyres" that demonstrate the firm's knowledge of the market and its product needs. These tyres are described as "retreadable", something could be a nod towards what Apollo is considering for the long-term strategic growth of its truck tyre operation. But, of course, Apollo's representatives refused to comment any further on any of this instead suggesting we attend the company's stand in hall 3 of the CV Show between 25 and 27 April to find out the rest.