Bridgestone presents M-Series tyres and Tirematics at CV Show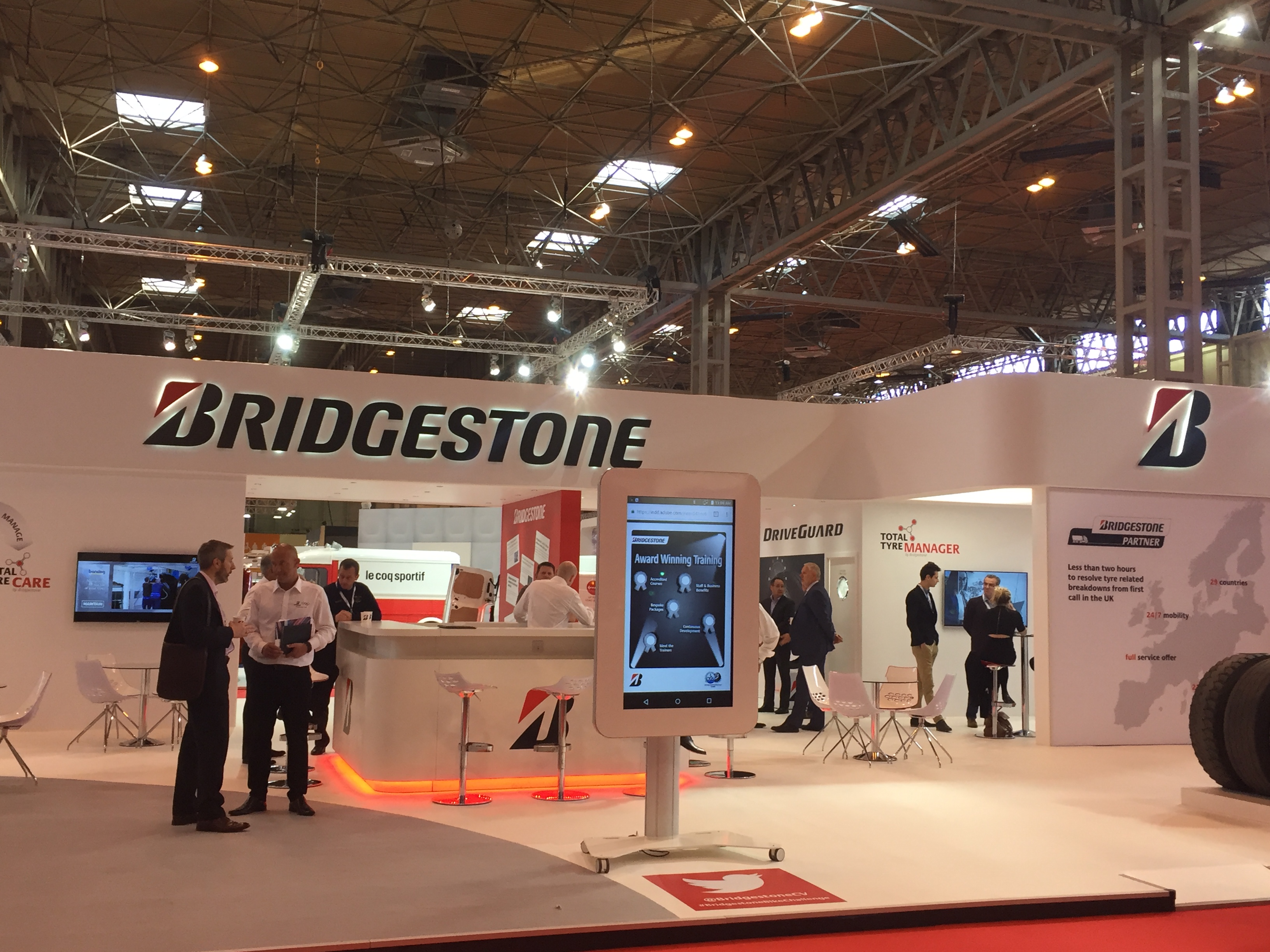 Bridgestone showcased its range of premium services, including its new M-Series commercial tyre line-up, to representatives of "hundreds of businesses" at the CV Show 2017. It adds that it concluded "a prestigious fleet agreement" with dairy firm Arla during the event.
The company's newly developed M-Steer 001, M-Drive 001 and M-Trailer 001 tyres in both new and retreaded patterns were central to the company's stand. This newest line-up of On/Off tyres have the durability to perform in a wide variety of surface conditions from asphalt and gravel to sand and mud, while demonstrating a high resistance to cutting, chipping and other forms of accidental damage. The M-Series is designed to extend mileage and increase traction and grip.
Bridgestone adds that the new tyre range played "an instrumental role" in the conclusion of a fleet agreement with Arla Foods. The 13,500-strong dairy farmer cooperative will continue to benefit from the range of tyres and holistic Total Tyre Care offering, with a renewed deal now in place up until 2020.
Tyre range joined by Tirematics, Olympic partnership
Bridgestone's Tirematics digital system and tailored package of support were also cited as major factors in the extension, with call-out times being reduced by up to 30 per cent as a direct result. Tirematics encompasses all of Bridgestone's connected tyre solutions and was also displayed throughout the three-day show at the NEC. IT systems, using sensors, remotely monitor, transmit and analyse real-time information, such as the pressure and temperature of commercial truck and bus tyres.
The company also displayed its Olympic Partnership, which allowed Bridgestone to communicate its recently unveiled association and accompanying No Matter What creative concept. A cycling simulator allowed visitors to pedal their way into a velodrome in between talks with the Bridgestone team.
Bridgestone has also added its Fleet Operator Recognition Scheme (FORS) supplier status and IRTEC tyre training accreditation to its commercial activities recently, both of which were part of the manufacturer's presentation. FORS is a voluntary accreditation scheme that promotes best practice for commercial vehicle operators, while the IRTEC licence aims to regulate the industry and provide a sense of 'best practice' with an approved standard that fleet technicians can aspire to achieve.
Finally the Bandag brand, part of the Bridgestone Group, was also officially revitalised to coincide with its 60th anniversary. A new brand logo and the launch of a new global campaign entitled 'Built for Better', aim to position Bandag as an innovative, sustainable business solution for fleet customers of any size.
Bridgestone's commercial sales director Greg Ward said: "The CV Show is always a hugely important event to Bridgestone and one that generates significant interest in the business. In this regard, our presence has been an emphatic success. The Arla fleet agreement was a huge development for us, which we were able to conclude during the show itself.
"We were able to communicate a great number of messages and the sense of connectivity between so many different facets of our commercial business was great to see.
"The CV Show is one of the biggest events in our calendar and we always strive to position ourselves as market leaders in the commercial vehicle world. We believe that we have achieved our aim here, whilst forging a number of valuable new contacts in the process."