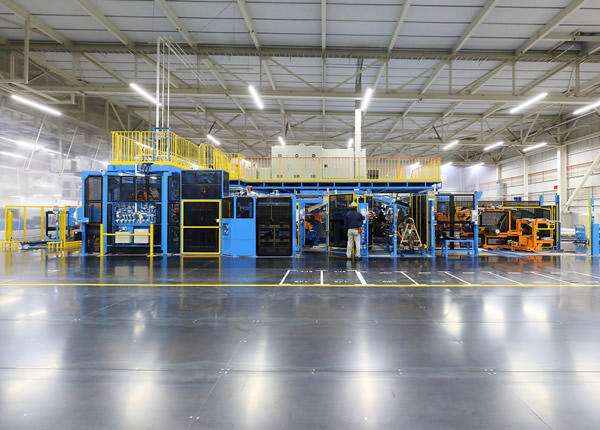 Examation combines specially developed ICT with artificial intelligence to greatly improve quality and enhance productivity in the factory
The Examation tyre assembly system is said to have resulted in a "landslide victory" for Bridgestone at the 2017 TTX Awards. The company was named Tire Manufacturing Innovation of the Year award at a ceremony in Hannover, Germany this week.
Bridgestone's Hikone passenger car tyre plant in Japan was the first of the company's facilities to utilise Examation. The system combines specially developed ICT with artificial intelligence to greatly improve quality and enhance productivity in the factory.
Examation incorporates more advanced versions of the information and communication technologies utilised in the BIRD (Bridgestone Innovative and Rational Development) production system and also employs new proprietary technologies based on the concepts of Bridgestone Intelligent Office (BIO) and Bridgestone Intelligent Device (BID). BIO and BID refer to new technologies that incorporate data analysis utilising Bridgestone's core expertise in the processing of high polymer rubber complex materials, which represents a core technology area. These technologies also employ proprietary algorithms that are made by combining analysis of big data collected from manufacturing processes with the techniques and know-how of Bridgestone's experts in manufacturing process.
"We are very proud that the Examation tyre assembly system has been recognised with this prestigious award," comments Emilio Tiberio, vice-president of research and development at the Bridgestone Technical Centre Europe. "We believe that the application of our ICT and AI to our production systems will provide great benefits."
Jury member Shunichi Yamazaki, president of the Intelligent Vehicle Research Institute in Japan, agreed that the technology is a game changer, and not just for the tyre industry: "In Japan, a generation of highly skilled workers have reached retirement age and it can be difficult to fully transfer their skills to younger colleagues. However, this system is a useful substitute, preventing human error and improving efficiency and production quality. It measures 480 quality points and carries out automatic control in real time by AI so that a tyre may be assembled in optimal conditions. It is expected that this type of intelligence technology will become an epochal system across all manufacturing industries."
Further Examation systems are being installed in plants in Hungary and Russia as part of a global rollout.
The Bridgestone tyre assembly system competed for the Tire Manufacturing Innovation of the Year award against four other shortlisted innovations: Bartell Machinery Systems' BeadView, Kobe Steel's Librota-GS Tire uniformity machine, Mitsubishi's MR-EX intermeshing mixer and ROmiLL's NSR preheater.
Category: Company News