TTX Award "confirms" VMI's value & innovation-based strategy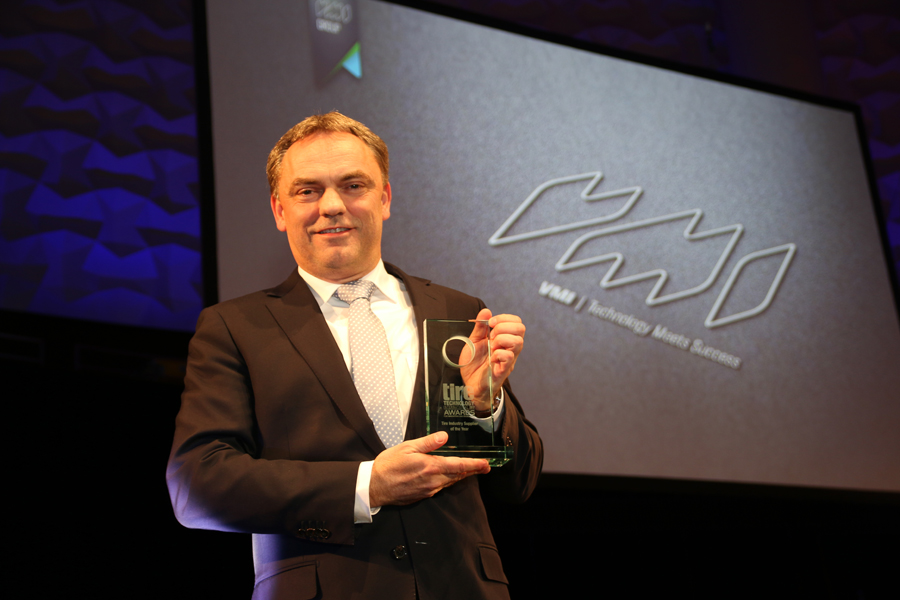 VMI edged ahead of fellow shortlistee Comerio Ercole in what is said to be a very tight race to win Tire Industry Supplier of the Year for the second time. The 2017 award was received by Harm Voortman, VMI Group president and chief executive officer, at the TTX Award gala dinner on 15 February.
Factors contributing to the Dutch manufacturer's win were Milexx truck tyre building machine, which was launched at last year's Tire Technology Expo, the introduction of the Retrax automated pre-cure tread applicator and the Pixxel vision system, which offers TBM automation, quality and data analysis improvements. VMI has also broken ground on a new manufacturing facility in Leszno, Poland, which will be operational in the second quarter of 2017.
The judges were reportedly particularly impressed by the Milexx, which can produce almost 700 tyres a day and is said to offer production and quality levels that are unparalleled in the industry. Tire Industry Research's David Shaw called it, "a milestone in TBR building productivity", and Joe Walter from the University of Akron said that it continued VMI's "tradition of developing and delivering high quality tyre building machines and related factory equipment to global manufacturers."
"We are honoured to receive this prestigious award," states Voortman. "It is great to see that our innovative work and dedication to the tyre industry is recognised by independent experts. It confirms our strategy to bring value to our customers by providing unique and innovative solutions. We will continue to develop new products and services to help our customers face the challenges of the future."
In addition to Comerio Ercole, the other shortlisted companies competing for the award were Comerio Ercole, Computype and GL Messtechnik.