SUV-orientated AlloyGators offer new workshop opportunity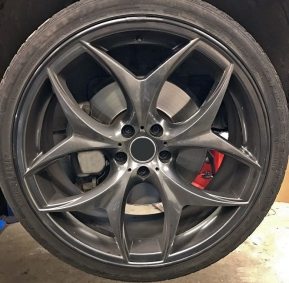 At the back end of 2016, AlloyGator launched its new extra-large alloy wheel protector. The product's debut was made at the 2016 SEMA Show in Las Vegas.
Designed to fit wheels that 12 – 24 inches in diameter, the new size profile has been added in response to the rapid global growth of the SUV and Crossover market.
"The SUV market is booming at the moment and we wanted to offer the same level of protection and customisation to customers with larger vehicles," commented Curt Rathbone, managing director at AlloyGator. "The new size will also fit super cars and hyper cars which typically have larger wheel rims, as well as benefit our customers in the overseas markets where custom cars are often fitted with extra-large rims."
Promising to provide the same level of protection as the original super-tough nylon rims, the new AlloyGators feature a smooth rounded edge for an aesthetically softer look, as well as a branded embossed AlloyGator fastening clip for additional security and retention. The alloy wheel protector is designed to sit between the tyre and the wheel rim, reducing the risk of damage from scuffs and scrapes caused by kerbs and potholes.
"With more motorists now able to fit AlloyGators to their vehicles, the alloy wheel protection system offers workshops, tyreshops and bodyshops an even greater business opportunity than ever before to generate extra revenue through additional labour sales needed to fit the protectors, along with healthy margins on the product itself," added Rathbone.
The business idea is that workshops fitting just three sets of large profile AlloyGators per week at the company's recommended retail price of £150 +VAT, could earn more than £17,000 per year in labour charges alone based on one hour's labour charge at £110.