SIMA launch for Vredestein's "widest" sub-1250mm agri trailer tyre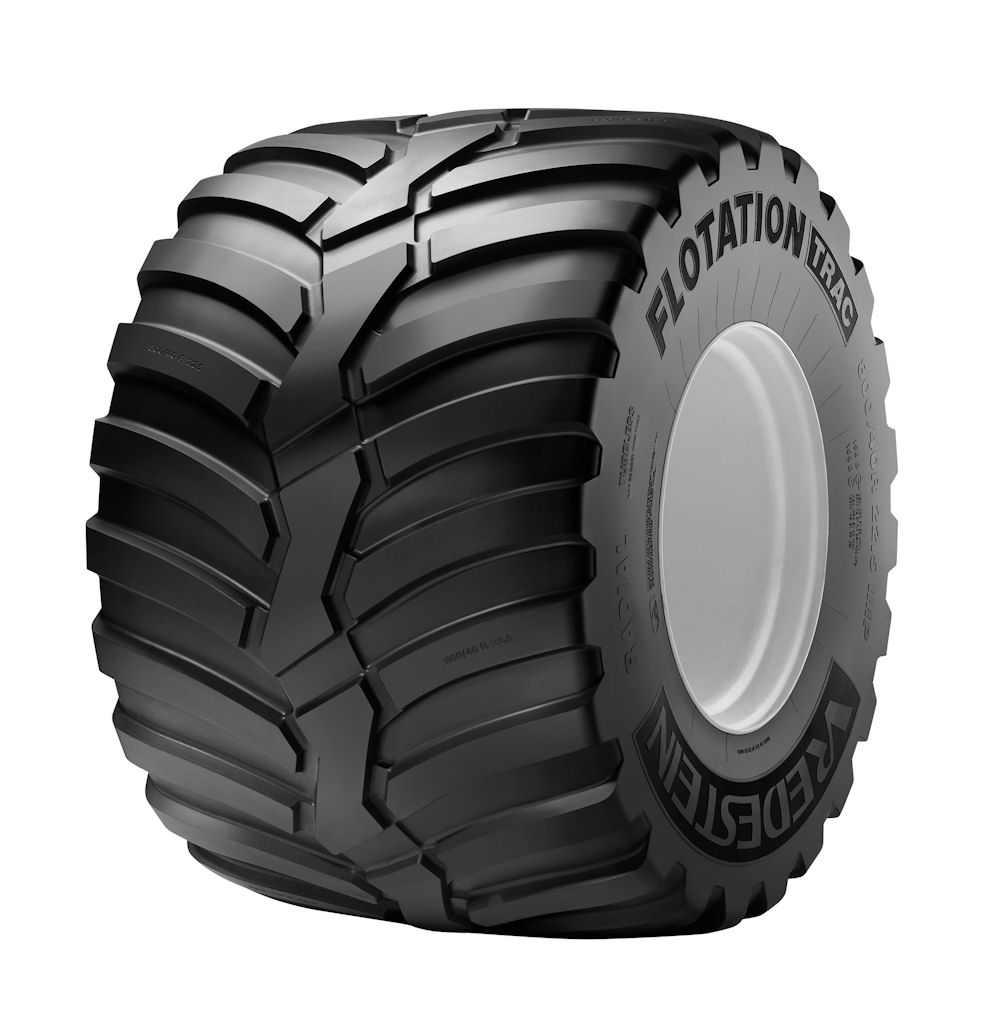 The SIMA international agribusiness show in Paris will serve as a platform for Apollo Vredestein to introduce the widest available radial implement tyre with a diameter below the crucial 1,250 millimetre mark. From 26 February to 2 March, the company will showcase the 800/40 R 22.5 168D Flotation Trac radial, a product it developed with agricultural equipment manufacturers.
A maximum diameter of 1,250 mm is the most popular diameter class for midsize trailers. While manufacturers of forage and self-loading trailers aim to offer the largest trailer volumes possible, legal restrictions on maximum trailer height and width serve as limiting factors. Moreover, tyres that guarantee lower soil compaction require more space.
These were the factors taken into consideration when developing the 800 mm wide, 1,230 mm diameter 800/40 R 22.5 168D Vredestein Flotation Trac radial, a tyre Apollo Vredestein says will become the widest tyre available for a 22.5-inch rim.
Apollo Vredestein states that the new tyre "retains all the benefits of the popular Flotation Trac profile," such as its "ability to ensure optimum rolling in wet conditions" and "good sideways stability." The tyre's rounded shoulder is said to be "gentle to turf" while the longitudinal blocks in the central part of the tread "give a comfortable drive with low wear."
In addition to the 800 millimetre wide tyre, Vredestein is introducing four other sizes to the Flotation Trac range: the 600/50 R 22.5 159D, 680/50 R 22.5 157D and 166D, 710/40 R 22.5 161D and 710/65 R 26 179D (which replaces 28 LR 26).
"By bringing these new sizes to market we are increasing the total number of specifications in our Flotation Trac radial range to an impressive 28," comments Guido Boerkamp, group product manager for Agricultural & Industrial tyres at Apollo Vredestein. "Add in the 15 specifications available within our Flotation Pro radial line and Vredestein's position as a true specialist in the segment of radial implement tyres with innovative dimensions and tread patterns is further reinforced."
Nine extra sizes join Traxion 85 series range
The products showcased by Vredestein during SIMA 2017 will also include nine new sizes in the Traxion 85 series, which were launched at the EIMA show in Bologna last November. Featuring the curved lugs that are characteristic of the Traxion family concept, the Traxion 85 aims to combine traction and comfort with longevity. With the new sizes ranging up to 50 inches, the extension meets a growing demand for Vredestein tyres in this all-round segment. "The addition of these sizes means that Vredestein now offers a genuinely complete portfolio of 80/85 series tyres for global use," concludes Boerkamp.