GSF Car Parts invests £3.5 million in van fleet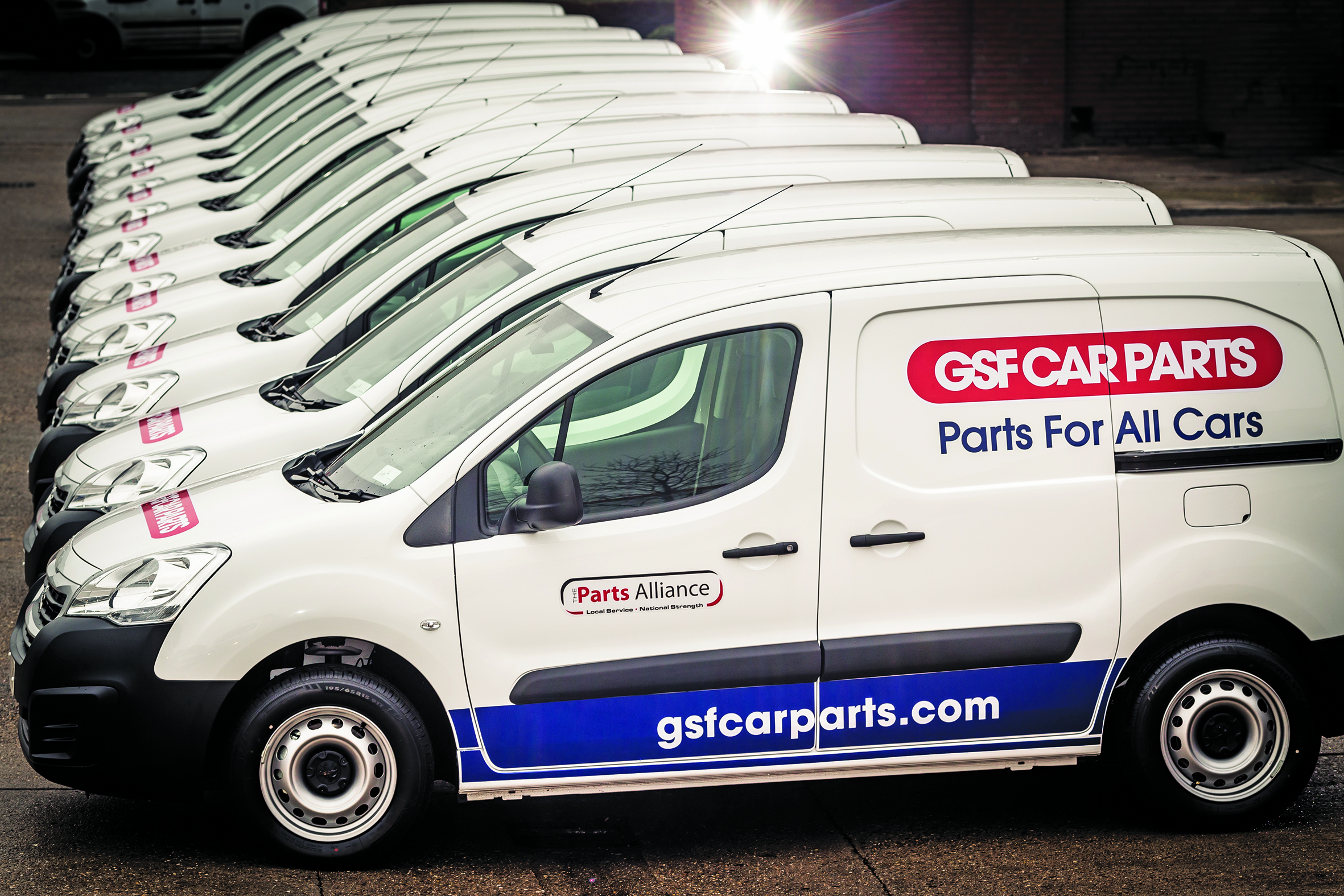 GSF Car Parts has taken delivery of 12 more Peugeot Partner vans at its Birmingham head office, replacing its local delivery vehicles over four years old. The upgrade also marked the start of a rolling programme to exchange all older vans across the entire GSF Car Parts network of 65 branches during 2017. A total overall investment of £3.5 million is planned on 350 Peugeot Partner vans, which will see around 60 per cent of the current GSF van fleet renewed.
Manufacturer-owned Robins & Day, the largest Peugeot dealership group in the UK, will coordinate deliveries branch-by-branch from their Edgware centre. Every van has been fitted with RoadHawk DC-2 dash cams and reversing sensors to help reduce insurance claims, cut repair costs and promote safe driving. They are supplied fully liveried by Sign Language and are ply-lined.
The initial delivery was greeted by the key personnel involved in the project. These included Bradley Mydat, fleet sales manager at Robins & Day as well as Dave Lewis, operations director and Kayleigh Eades, fleet administrator at GSF Car Parts.
To enhance levels of support, the management of the GSF fleet is being transferred into The Parts Alliance Group's fleet team, under Steve Evans, group fleet manager and Tony Shearer, branch operational services director.
"This is a major investment that will bring the GSF van fleet into line with our fleet policy for the rest of the group," said Tony Shearer. "We generally work on a 4 to 5 year and 150,000 mile replacement cycle."
"We're delighted that GSF will now have one of the best fleets in our industry," said Dave Lewis, operations director at GSF Car Parts. "It's a great boost to morale, productivity and of course the image of our business out at customer level."
The vehicles are being financed through Zenith, the UK's leading independent leasing, fleet management and vehicle outsourcing provider.
The vans bring many benefits; improved engines and more load space are prime advantages over the vans they are replacing. Modern Euro VI technology means they will deliver reduced fuel consumption and lower CO2 emissions, benefitting both the bottom line and the environment.
The arrangement with Zenith means the vans are protected with a full three year manufacturer's warranty but will be serviced and maintained through a bespoke national repairer network of GSF customers, using parts supplied by the business.
The impressive attention to detail has even extended to van liveries which have been designed not only to be eye-catching but also modular, making them easy to replace in the event of minor damage to the hard-worked fleet.