DSV now exclusive Westlake distributor in Scandinavia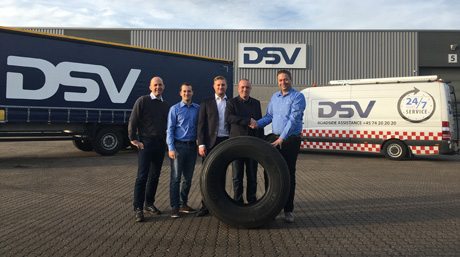 Under an agreement entered into with ZC Rubber Group Co. Ltd. and the Pneuhage Company Group, Danish transport and logistics company DSV A/S has gained exclusive distributor rights for the Westlake tyre brand in Denmark, Norway, Sweden and Finland. DSV will cooperate closely with official ZC Rubber European distributor Pneuhage to offer Westlake tyres to contracted hauliers and the wider commercial vehicle market in the four countries.
Announcing the new arrangement, DSV shares that its own operational fleet has used Westlake tyres since 2012, and it is "extremely satisfied with the performance of the tyres produced by one of the largest tyre manufacturers in the world." The Westlake truck and trailer tyres it distributes will be supplied from warehouses in Horsens (Denmark), Uusikaupunki (Finland), Gothenburg and Landskrona (Sweden). Sizes not stocked at these sites are available on request and can be delivered within 72 hours.
"This is a great achievement in further commercialising the relationship between DSV and ZC Rubber," comments Flemming Steiness, deputy equipment manager at DSV. "Based on our extensive tests and the past good experiences with Westlake tyres, we have also decided to fit our new trailers with Westlake tyres. Add to that the insertion of Ultra-Seal into the tyres, and this creates an optimum cost-effective combination for us in our operational fleet-management."
The Ultra-Seal Steiness refers to has now gained official approval from Westlake for use in combination with its tyres. Ultra-Seal is a preventative tyre sealant liquid that is designed to seal most punctures as they occur, ensure heat reduction, extend tyre life by keeping the air pressure in the tyre, minimise tyre wear and reduce fuel consumption. DSV was Ultra-Seal's first European pilot user and undertook a long-term evaluation of the material using its trailers. After nine months of normal trailer operations with 500 new vehicles equipped with Ultra-Seal and 500 new vehicles without Ultra-Seal, DSV reported a seven per cent reduction in tyre blowouts and eight per cent decline in other tyre-related damage incidents.