BMW Team MTEK wins Hankook DTM Best Pit Stop Award 2016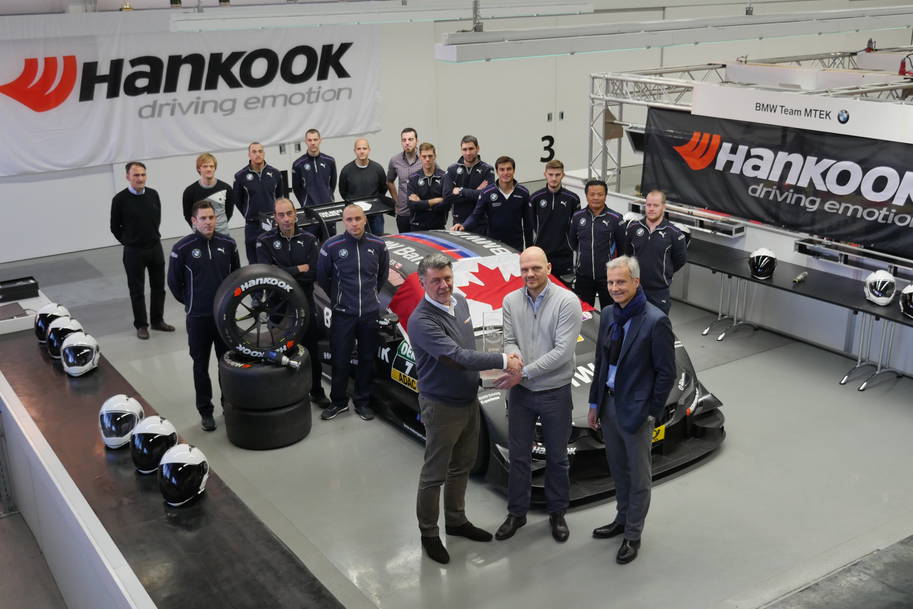 Hankook Tire doesn't just supply tyres to the DTM touring car championship – it also awards the fastest pit stop tyre changers. BMW Team MTEK delivered the fastest tyre change times over the past season, and by doing so has won Hankook's Best Pit Stop Award 2016. Manfred Sandbichler, Hankook Tire's motorsport director for Europe, presented the Hankook trophy to the winning team at Team MTEK headquarters on 8 December.
By making the fastest pit stop during the DTM final in Hockenheim, Team MTEK clocked up 110 points and thus sealed its overall victory in the Best Pit Stop Award 2016. During the nine rated Sunday races where a compulsory pit stop was specified, the BMW mechanics managed the fastest tyre change of the day on three occasions, making them the team with the most individual successes. The Mercedes-AMG Team HWA with Paul Di Resta came second, 23 points behind the winners, with the Audi Sport Team Abt Sportsline with Miguel Molina taking third spot.
Team MTEK Driver Bruno Spengler, whose BMW Team Schnitzer won the Hankook prize in 2013, is delighted to drive for another victorious team: "Tyre changing is extremely important. If time is lost here, even two or three tenths of a second, they can prove very difficult to catch up on the track where everything is unbelievably tight. I can only make up a little time entering and leaving the pit lane, but that is an absolute minimum. The guys do a fantastic job and have really earned this great award. My share is certainly no more than ten per cent."
Manfred Sandbichler agrees: "The fans usually see the drivers and cannot always estimate how important the work behind the scenes is as well. If there are problems during a pit stop, the mechanics are quickly held responsible. If everything goes to plan, it's often seen as just being part of the job. With our Best Pit Stop Award, we would like to honour the great performance delivered by the pit crew, without which no driver can be successful, either in the DTM or any other motorsport for that matter."
Hankook has given out the pit stop award each year since its DTM première in 2011. The points in the competition are allocated according to the DTM rules per vehicle and are not added up within the teams. After each race, the fastest crew is awarded 25 points for the car (second to tenth places are respectively awarded 15, 12, 10, 8, 6, 4, 2, 1 points) and – arguably more importantly – receives three crates of beer the following DTM weekend. The evaluation is based upon pit entry and exit times officially determined by German motorsport association the DMSB. In addition to winning a trophy, the top scoring team enjoys an exclusive Hankook-hosted barbeque at their headquarters.