Pirelli to support F3, GT stars at Macau grand prix World Cup events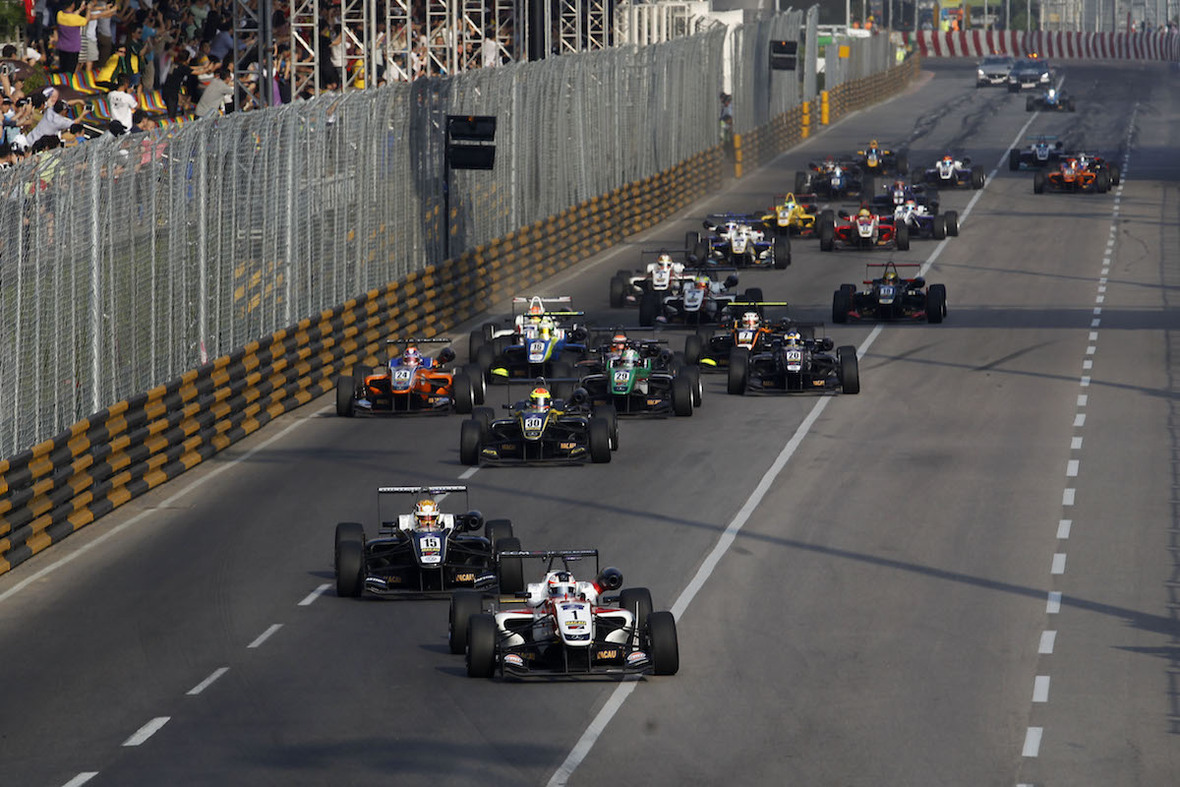 The Macau grand prix will take place this weekend, with Pirelli as the exclusive tyre supplier for the FIA Formula 3 World Cup. Pirelli will also return as supplier to the FIA GT World Cup, to which it supplied tyres at the inaugural race in 2015.
Coinciding with the race being awarded the title of FIA Formula 3 World Cup for this season, Pirelli has been appointed as the new tyre supplier for the first time in 33 years. Pirelli already provides a single-compound P Zero tyre to different junior single-seater championships all around the world, known as the P Zero DM. The manufacturer says the product strikes the right compromise between performance and durability, and it has been further developed to cope with the unique demands of Macau.
The cars in the FIA GT World Cup will use the P Zero DHC, a single compound that has performed in a wide variety of conditions, race tracks and vehicle architectures. Wet weather tyres are available for both championships in case of rain.
Pirelli's motorsport director Paul Hembery: "We're looking forward to this year's Macau Grand Prix and our first time as exclusive supplier to the famous Formula 3 race. This furthers our commitment to supporting young drivers, which stretches from Formula 4 all the way to Formula 1. With several former winners returning, it promises to be a very exciting event, which we are proud to be part of. The GT World Cup meanwhile is a fantastic showcase for prestige car manufacturers and GT3 racing as a whole, which we supply around the globe.
"As for the Macau circuit, it's known as one of the most challenging anywhere in the world. With both high-speed and more twisty sections over a long lap, the layout is an extremely demanding all-round test for every tyre."
Macau Guia Circuit
The Macau Guia Circuit is a famed Asian street track in use since 1954. The 6.12-kilometre lap is highly demanding, and consists of two distinct parts: a high-speed sequence of straights connected by fast corners, and an extremely twisty and narrow section. The circuit is lined by barriers throughout the lap, with very limited run-off area.
Formula 3 cars have contested the headline race at the Macau Grand Prix since 1983. Ayrton Senna triumphed in that first year, cementing its reputation as a race contested by future motorsport heroes. Fifteen of the drivers currently competing in F1 have taken part in Macau in the past.
The FIA GT World Cup was run for the first time last year, uniting the very best GT3 drivers from all over the world. Competitors include winners from all the top races in blue riband events around the world, such as the Nurburgring 24 Hours and Spa 24 Hours.
Pirelli Asia-Pacific chief executive officer Giuseppe Cattaneo: "We are delighted to be present at the Macau Grand Prix, which is an exciting new stage for Pirelli. In the Asia-Pacific region, motorsport is an important part of our company strategy, where we supply series that range from the Ferrari Challenge and Lamborghini Super Trofeo to the Chinese Rally Championship. In 2016 we started supplying the brand new China GT series, and together with the new Blancpain GT Series Asia next year, we look forward to writing another new and exciting chapter in Pirelli motorsport history."