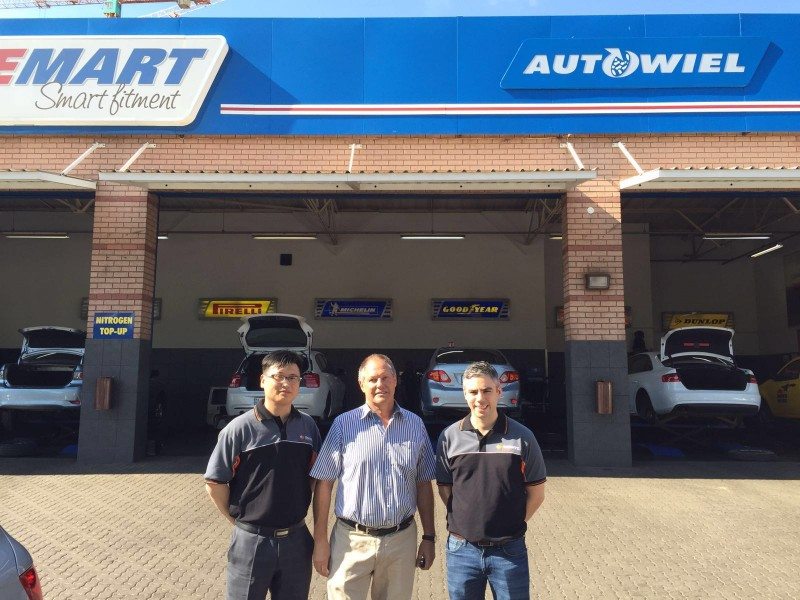 (l-r) Wilson Zhang, Davanti vice general manager, Paul Bosman, chairman & managing director of Autowiel, member of the Tyremart Network; and Peter Cross, Davanti general manager, outside Autowiel's Pretoria centre
Davanti will be distributed in South Africa by Tyremart, one of the country's largest independent tyre fitment franchises. With immediate effect, Tyremart will promote and sell the complete Davanti range of car, 4×4/SUV and light commercial vehicle tyres having signed an exclusive distribution agreement.
Peter Cross, Davanti's general manager states: "Since meeting Tyremart at the Tyrexpo Africa Show in March we have been working together on homologation and import licences to permit Davanti Tyres to be imported into the South African market. Now the whole range will be available through Tyremart's network of more than 80 retail and fitment outlets throughout South Africa."
Gavin Kockott, managing director of Tyremart adds: "Tyremart's current brand strategy is weighted towards locally manufactured premium brands, supplemented by a number of imported premium brands all of which compete in the higher end of the replacement market at 'top-end' prices.
"Davanti is a premium quality tyre manufactured to exacting E-mark standards that can be fitted to a full range of vehicles from family saloons to luxury and high performance vehicles but at considerably more attractive prices."
David Harrington, Tyremart's marketing director continues: "Davanti fills the gap in the 'value branded' sector in our product range therefore contributing significantly to our multi-branded policy of offering the right tyre at the right price. We're very excited about being able to provide a quality tyre like this as our exclusive Tyremart house-brand."
Category: International News