Heuver Tyrewholesale accommodating growth with added warehouse capacity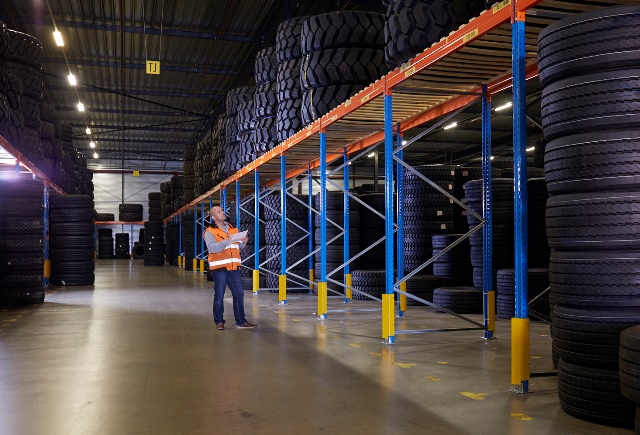 Increasing sales can create pressure at specific points along a company's distribution chain, and Heuver Tyrewholesale reports that sales growth over the past year did just that at its warehouse in Hardenberg, the Netherlands. According to the wholesaler, capacity issues "endangered the delivery times promised to customers." In response, Heuver Tyrewholesale examined the layout of its warehouse, and has installed a tailor-made storage rack that increases warehouse capacity by 3,000 square metres.
This extra capacity has enabled the wholesaler to increase its stock levels and, more importantly, it has provided Heuver a means of effectively managing its orders so it can "continue offering the fastest possible deliveries" to its customers. "We established a few ambitious objectives a few years ago. However, things advanced faster than we had expected," comments Bertus Heuver, director at Heuver Tyrewholesale. "And, thanks to our strong brands, we grew strongly last year in Europe (Aeolus and Barkley) as well as the Benelux (Alliance). As a result, we ended up being restricted a little by our own warehouse. Our growth actually endangered our guaranteed stock position and fast deliveries. Extra storage space was thus a necessity. But it was too risky to simply place an extra layer on existing foundations.
"Our people consulted with the supplier, but it was not easy to find a solution," Bertus Heuver continues. "Thanks to their determination and creative thinking, they managed to find an effective solution that would not hinder our logistical process. After several rounds of drawings and calculations, a tailor-made storage rack was realised, which offered an extra 3,000 square metres of storage space, or a total increase of eight per cent."
The director notes it was essential to add capacity without disturbing the company's existing work processes. "So we could not simply place tyres on racks. And the structure also had to be safe and stable. Because we had to work around the existing foundations, this resulted in a solution that had never been supplied in the past. Special support pillars mean the structure is sock solid, and allows us to pick orders as quickly as ever. The other benefit is that barcodes for lower shelves have now been placed on the surrounding rack. This means they are less likely to become dirty or damaged, while also speeding up the process. For the time being, this expansion will allow us to keep pace with the latest growth. However, if growth continues as expected, we will probably have to look for another solution."