Multistrada to increase production capacity despite lower car tyre exports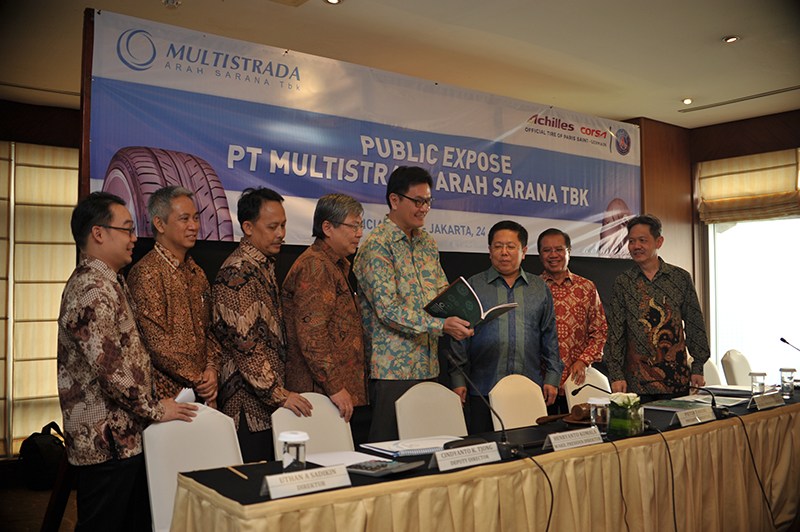 According to Pieter Tanuri, president director of Indonesian tyre maker PT Multistrada Arah Sarana Tbk, the company is aiming for a "ten to 15 per cent increase in revenue" during 2016. Multistrada intends to support this rise through higher exports and will accommodate this hoped-for increase in unit sales by boosting production capacity for both car and motorcycle tyres. "Exports are the highest sales contributors," noted Tanuri, adding that sales in export markets account for 70 per cent of total company sales.
Multistrada currently has the capacity to produce 28.500 car tyres and 16,000 motorcycle tyres per day, and in 2015 the company sold 6.8 million car tyres, down 12 per cent from the previous year, and increased its motorcycle tyre sales by three per cent to 3.3 million pieces. Car tyre sales were down due to a 14 per cent decline in exports, yet in spite of this Multistrada has taken out a US$30 million capital expenditure loan to optimise production capacity for both car and motorcycle products. Daily production capacity for passenger car tyres will ultimately increase by 3,500 units per day to 32,000 tyres through a debottlenecking project, and this will help lift daily motorcycle tyre production capacity by 2,000 units a day to 18,000 tyres.
Multistrada is looking forward to a recovery in the European market to bolster its export sales, and the company is targeting the USA as a potential export destination; sales in that market increased 58 per cent in 2015. "We're planning to penetrate the US market by establishing a representative office to deeply understand the market condition so that the number of sales will rise further in the US market," added Tanuri.
The tyre maker states it is working towards growth by following three strategies: The first of these is to optimise the company's supply chain in potential growth regions such as the United States, Europe, Japan, Southeast Asia, Australia and the Middle East. The second strategy calls for products to be adjusted for each targeted region, while the third is to achieve greater efficiency in raw materials.
"We even have a co-operation with the French football club, Paris Saint-Germain (PSG) as the Official Global Tire Partner," the president director added. "We're hoping that PSG will help Achilles and Corsa achieve penetration in the global market."
Last year the company recorded consolidated net sales of US$237, 16 per cent less than in 2014. Sales were lower due to a decline in domestic and export car tyre sales, pricing weakness and an unfavourable exchange rate between the Indonesian rupiah and US dollar. "The year 2015 was undoubtedly a year full of challenges for Multistrada. We believe that 2016 will be a great start for the company's continuous growth as one of the biggest national tyre manufacturer in Indonesia," said Tanuri.