First Line export success recognised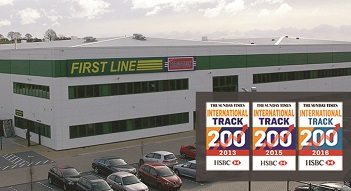 As a mark of its continuing strength in the export market, First Line Ltd has again featured in the latest Sunday Times HSBC International Track 200 ranking, making it three appearances in the last four years and the company by far the most consistent aftermarket supplier in the study.
The 200 ranks Britain's mid-market private companies with the fastest-growing international sales, measured over their latest two years of available accounts and, as such, is an excellent barometer of private company growth and performance.
"To feature in the Sunday Times table for a third time is an amazing achievement for the First Line team, particularly as, by its very nature, it becomes progressively harder to attain a measure based on 'fastest-growth' year on year," said managing director, Dan Joyner. "However, it is a reflection of the strength and recognition of the Borg & Beck brand that we have been able to maintain such a strong showing on a consistent basis.
"Due to its OE heritage, we have built Borg & Beck on the Clutch programme, which remains one of our most formidable range of products. However, the brand's global recognition and association with quality also means that we now enjoy great success with all Borg & Beck product groups such as Braking, Bearings, Cables, Cooling, Filters, Rotating, and of course Steering & Suspension. Combine this with the recently introduced range of commercial vehicle components and it's clear to see why Borg & Beck is such an attractive proposition across the globe.
"As the results reflect, we are committed to the continuous growth of our export sales and the forthcoming Automechanika Frankfurt exhibition will provide us with a great platform to do so as we take our biggest ever stand this September. It is, however, our core principles of premium quality products, extensive range coverage and excellent availability, combined with a great team of individuals that form the basis of our on-going success.
"The good news for customers in our home market is that the UK business remains strong and with a growing export market, not only are our risks spread, this also means we have been able to invest in our people and infrastructure, which in turn ensures a consistency of service to our UK customers. This is the reason why many make First Line their supplier of choice."