Pro-Align targets entry level alignment with Hunter PA200 launch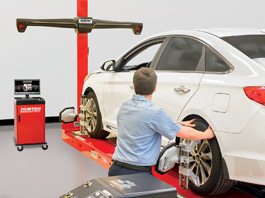 Garage equipment brand Hunter's UK distributor has launched a new wheel aligner targeting workshops "starting out" in the provision of the service. Pro-Align says the new entry-level Hunter PA200 will allow more tyre shops to "enjoy the financial, efficiency and customer service benefits that result from ownership of a Hunter wheel alignment system." The PA200 features a two-camera system and uses the same imaging technology found on the company's popular, range-topping Elite TD system.
"The new PA200 is ideal for those workshops who may be starting out in wheel alignment but are looking for an accurate, entry-level, high quality four wheel alignment system," explains Paul Beaurain, managing director, Pro-Align. "The system retains the core elements of our other award-winning Hunter imaging alignment systems to deliver accuracy and customer service quality, but in addition, is tailored for those where low cost of investment and ownership is a primary concern."
The PA200 utilises Hunter's HD targets to deliver accurate 14 point alignment readings. The results are displayed in an easy to understand, colour coded 'Hunter styled' printout. Its Linux based software system allows technicians to recall OEM vehicle specs from Hunter's extensive vehicle database and includes a number of handy workshop software modules such as WinToe and step-by-step instructions which aid and guide technicians about how to complete the alignment job.
Available with either imaging or conventional sensors, the PA200 has the flexibility and capability to be progressively upgraded so that as your wheel alignment business grows, the Hunter system can grow too, all the way to a full Elite TD specification. Pro-Align adds that, for a limited period only, the PA200 is available at an introductory price of £7,595.