Pro-Align presents Kings Lynn's K Brown with £15k Hunter wheel alignment prize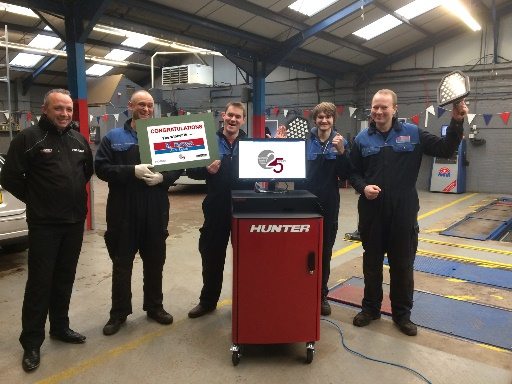 Pro-Align has announced independent workshop, K Brown Auto Repairs in Kings Lynn, as the winner of its 25th anniversary competition. The workshop will receive a Hunter PA200 Plus wheel alignment system with a list price of £15,000. Pro-Align states the addition of the aligner will enable K Brown to expand its service offering and grow its wheel alignment business.
"Our congratulations go to Keith and all of his team on winning our 25th anniversary competition," said Paul Beaurain, managing director, Pro-Align. "We've been lucky enough to work with some fantastic businesses in our 25 year history so this competition was designed to give something back and help transform the fortunes of one more business. Our lucky winner will now be able to experience for themselves the revolutionary and transformational power of Hunter imaging alignment."
K Brown Auto Repairs was one of more than 300 businesses who entered Pro-Align's competition which ran on the company's website towards the end of 2016. The winners were informed of their win in person by David Mendoza from Pro-Align who surprised the team with delivery of the prize just before Christmas. The aligner is due to be installed in January giving the workshop the opportunity to boost their alignment income immediately.
"I'm absolutely ecstatic about the win," exclaimed Keith Brown, managing director of K Brown Auto Repairs. "I never win anything so to win something of this value is absolutely amazing! It's going to be a major asset to the business so I'm now hoping to get it in and installed as quickly as possible."
The Hunter PA200 Plus system is the latest offering from Pro-Align. It features a two camera system and uses the same award-winning imaging technology found on the company's popular, range-topping Elite TD system. It also utilises Hunter's high definition targets to deliver accurate 14 point alignment readings with results displayed in an easy to understand, colour coded 'Hunter styled' printout. Meanwhile the Linux based software system is simple, quick and easy to use. Technicians can recall OEM vehicle specs from Hunter's extensive vehicle database and it includes a number of handy workshop software modules such as WinToe and step-by-step instructions which aid and guide technicians about how to complete the alignment job, making it ideal for those new to wheel alignment.
"I'd like to take this opportunity to thank everyone who took the time and effort to enter our competition," added Paul Beaurain. "It's a shame we can only have one winner, but of course, if you'd still like to transform your workshop with a Hunter aligner, then please do not hesitate to call us to see how we may still be able to help you."