Pro-Align expands again with new aftersales support roles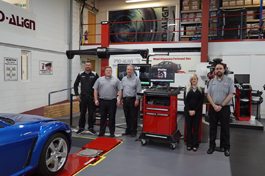 Pro-Align has boosted staff numbers to a record level for the company, having created a number of new support and aftersales roles. The distributor states that the new appointments are the result of growing demand for Pro-Align's range of Hunter wheel alignment and wheel servicing systems.
"As well as providing innovative and technologically advanced products, it's our mission to support this with industry leading levels of customer service and attention," explains Paul Beaurain, managing director, Pro-Align. "In order to achieve this, we have created and invested in a number of new positions that will ensure customers can continue to receive the very best levels of care, further boosting our premium service and reinforcing the reasons why so many workshops choose to work with us."
The first addition to the Pro-Align team is Barrie Sands who takes up the role of aftersales manager. His appointment means Colin Avis will move from aftersales to develop the company's brand new IT department.
The company's marketing department has also been boosted with the arrival of Michelle Baker who takes up the role of sales and marketing administrator. In its sales department, Basingstoke-based Dan Woods has been appointed to the role of sales executive. Meanwhile in two newly created positions, Rob Hamilton has been appointed as a field-based service engineer and Jamie Gilmartin has been appointed as a service engineer/installer for Ireland, strengthening Pro-Align's regional coverage and support further.
Completing the staff moves are two changes of faces. Stan Willmoth joins the team as the company's new finance manager and Gabor Csik joins as installation engineer.
"We're delighted to have so many new team members join us," concludes Beaurain. "As we approach our 25th anniversary, it continues to be an exciting time of growth for us all here at Pro-Align. Thankfully we've still got the same levels of enthusiasm and passion as we had when it all began so we continue to look forward with much excitement and optimism with our largest team ever."