New products and brand support for Cooper, Avon ranges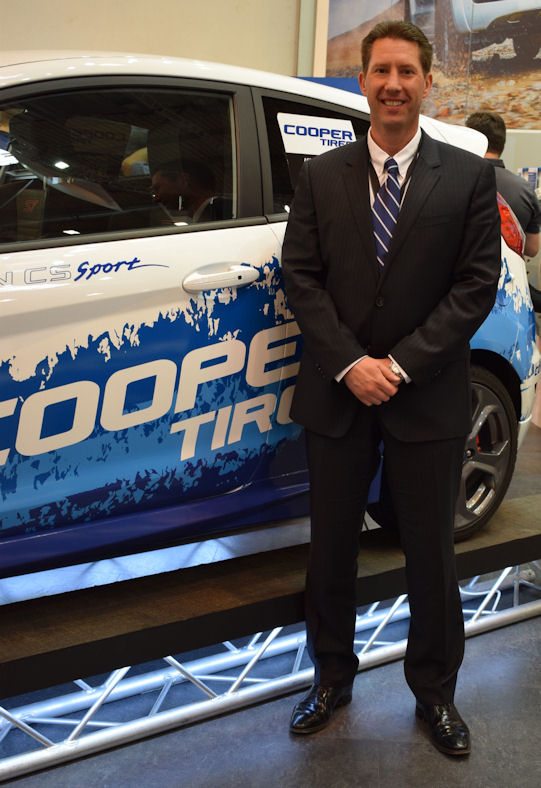 Recent initiatives to increase awareness of the Cooper tyre brand in the UK and Europe have yielded positive results, and therefore Cooper Tire & Rubber Company Europe not only intends to continue these efforts, it has begun extending them to the Avon brand. During Reifen 2016, Tyres & Accessories caught up with Jeff Schumaker, managing director and vice-president of the tyre maker's European operations, and discussed where Cooper Tire Europe is heading with its two brands in regards to products, positioning and promotion.
"We've done a lot with Cooper over the past two to three years," comments Schumaker. David Coulthard (whose visit to the Cooper Tire Europe stand on day one of the Reifen show created a minor sensation) has done an excellent job as an ambassador for the brand, and our efforts to raise awareness of Cooper through our Arsenal FC sponsorship have been met with success, both in terms of brand awareness and commercial growth. As we're launching a number of new Avon products, now is a good time to invest in that brand as well."
Jeff Schumaker sees "considerable brand equity" in Avon, and shares that Cooper Tire Europe is beginning to observe increased interest in the Avon brand. This interest primarily comes from within the UK and is being supported by football sponsorships for the 2016/17 season. "We've entered into sponsorship arrangements with Everton FC, Bristol Rovers FC, Swindon Town FC and Derby County FC," notes the managing director. "This gives us a presence in the UK's three top football leagues." The emphasis on the UK market is understandable given the brand's heritage, however Schumaker adds that a number of partners work with Avon throughout Europe and beyond, and Cooper Tire Europe is now adding a 'made in Britain' flavour to its advertising and promotional materials, and this is being particularly well-received in markets further afield.
While a passion for football is being used to raise awareness of both Cooper and Avon tyres, the company sees the two brands themselves as unique entities. "For me, the big separator between Cooper and Avon is product," says the Cooper Tire Europe managing director. "With Cooper, we're always going to have a big 4×4 range that Avon isn't going to have, and we're reinforcing several points of difference in the winter product portfolio with the introduction of studdable tyres for Scandinavia and Russia into the Cooper line-up. We're also building up a good winter range for Avon, however these will all be studless tyres.
"I view Avon as a UK-dominated brand, even though it is a good match for some other markets," Schumaker continues. "And the products sold under the Avon name will reflect this and will also reflect the brand's motorsport and two-wheeler segment strengths." He adds that Cooper Tire Europe intends to move away from sharing patterns between Cooper and Avon; while most current ranges have unique patterns, a limited number can still be found on both brands.
New products mean a young portfolio
The Cooper brand is strongly associated with 4×4 products, and that's something the tyre maker is very proud of. It is nevertheless working towards lifting its presence in the passenger car and SUV markets, and has supported this drive over the past couple of years with its World Rallycross involvement and accompanying 'rough to smooth', or gravel to tarmac, message. During the same timeframe, a swag of new Cooper ranges have come to market – the range-topping Cooper Zeon CS Sport was introduced at the start of 2014 and followed by the summer high performance Cooper Zeon CS8 last year and the Zeon 4XS Sport summer SUV range earlier in 2016. "A high percentage of sales now come from products that are less than two years sold," comments Schumaker. "We're really proud of that and the efforts made to diversify and add to our 4×4 portfolio."
The Avon portfolio has grown considerably with the addition of the high performance ZV7 and the ZX7 SUV ranges, and Jeff Schumaker adds that new Avon alpine products will launch later this year. "Cooper Tire Europe is very excited about the ZX7 as it is Avon's first summer SUV line-up, and it fills a gap in the portfolio," he shares. "Another source of pride with our new ZV7 and ZX7 ranges, along with the ZZ5, is that every single SKU has obtained an 'A' label rating for wet grip."
Made in Europe, for Europe
Jeff Schumaker sees a high level of local production as a core part of Cooper Tire Europe's value proposition. "Local supply is a big part of our value proposition as tyres should be quickly available to customers. Of course, Melksham and Serbia have different strengths."
The manufacturing focus at Cooper Tire's factory in Kruševac, Serbia, which the company acquired at the start of 2012, is on entry-level products. In contrast, Melksham has historically been a seat of motorsport and racing tyre production, and lot of Cooper Tire Europe's UHP production has taken place there since the acquisition of Avon Tyres in 1997. The company focuses the Melksham factory on high-value products, and recent investments in tyre building machinery have equipped the plant to make the company's newly-introduced 4×4 products including the AT3 Sport, a European version of Cooper's globally successful 4X4 product, the AT3.
"The ZX7 and the 4XS Sport are made in Melksham and we're launching the AT3 Sport, which will be made in Melksham specifically for the European market," reports Schumaker. He adds that the AT3 Sport features small adjustments to the tyre's tread pattern in order reduce noise generation and bring the tyre in line with European legislation. "But it still has all the performance characteristics of the AT3."
The AT3 Sport comes to market this summer in an initial range of 15 SKUs, which will be increased to 40 SKUs by the end of the year. The Cooper Tire Europe managing director shares that we can expect to see the introduction of refreshed alpine SUV and passenger car ranges in the coming year, along with a heavy emphasis on products in general and continued investments in both the Cooper and Avon brands.
Another current Cooper Tire Europe focus is logistics. "While investing in manufacturing is important, we're also upgrading our supply chain and distribution capability in Europe," comments Jeff Schumaker. "We will also adjust our supply footprint to give our customers the best delivery." Details of these changes will be made public at a later date.