Continental shows high-performance port products in Hamburg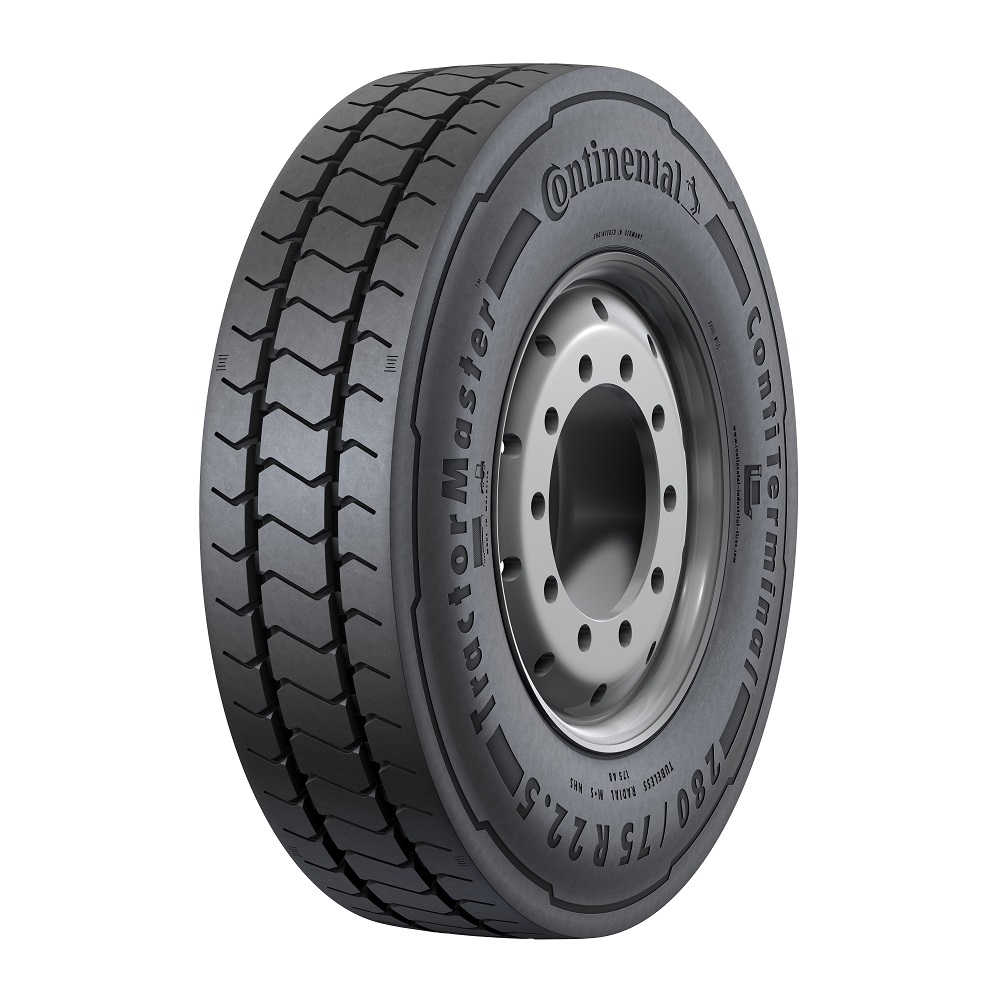 Continental Commercial Specialty Tires (CST) has been presenting selected products from its port tyre range at this year's TOC Europe event. For the first time, the TractorMaster tyre will be showcased in the new 280/75 R22.5 size.
"Port logistics is constantly changing. Digitalization, connectivity, and the requirements for minimal downtimes and reduced costs are challenges that our customers have to overcome," said Julian Alexander, Product Line Manager Material Handling at Continental CST. "We are constantly developing our product range in order to be able to offer the best solutions for their individual needs from a single source – and for every port vehicle."
The high-performance pneumatic TractorMaster tyre is now available in version 280/75 R 22.5 in addition to the existing 310/80 R 22.5 size. The pneumatic tyre was specially developed for use on tractors and trailer applications. It reportedly offers very good traction, a high load-bearing capacity, and very high mileage. The closed shoulder and the hard, wear-resistant compound of the tire provide even wear, low abrasion, and high resistance to damage. The tyre is equipped with Continental's patented visual alignment indicator VAI which helps identify incorrect wheel alignment and suspension settings without complex electronic measurements, simplifying maintenance and reducing costs.
Alongside the ContainerMaster, Continental is also presenting a V.ply tyre, which is applicable for reach stackers, empty container handlers, and heavy-duty forklift trucks. The V.ply design is said to be based on racing tyre technology and combines the benefits of diagonal and radial tires. V.ply tires feature extremely strong sidewalls, with a carcass consisting of up to 20 layers of textile cord, embedded in three separate wire beads. The textile layers of the innovative woven cord are arranged at specially designed angles in a V-pattern.
New fleet management box
The firm has also been showing its ContiFlexBox tyre management system, which enables drivers and fleet managers to manage their fleets in a safe, efficient, and environmentally friendly way. The ContiFlexBox will enable the collection, provision, and transfer of tyre-related data to a central server via Wi-Fi or GSM for analysis and processing. The data will be transferred to mobile end devices as well as to the display in the driver's cabin.
The ContiFlexBox technology will first be available for port applications from 2017.