Künz Freerider fitted with Continental CraneMaster tyres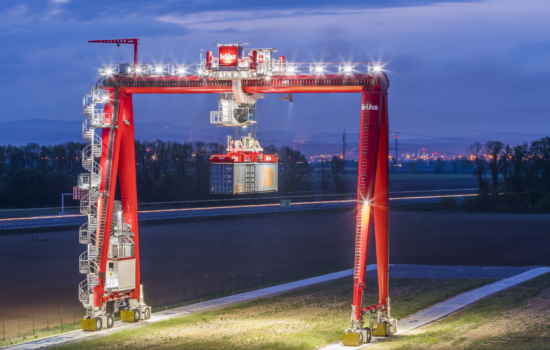 Künz, an original equipment manufacturer of machinery including the rubber tyred gantry cranes (RTG) used in ports, is fitting Continental's CraneMaster tyres to its new Freerider RTG.
According to the company, Künz Freerider container crane enables more efficient container handling in ports. The crane can be operated at a higher driving speed and even be operated with load right from the start. The high degree of flexibility in handling and the stiffer overall concept of the crane bring greater comfort for the crane operator, in addition to significantly increased safety. And all this makes tyre choice important. When choosing tyres for the Freerider, Künz specified Continental CraneMasters on each of the 16 CraneMaster positions.
"The tyres deal with enormous loads in the day-to-day work at the port. We have opted for Continental's CraneMaster tyre because it has been able to meet this challenge in the best possible way," said Walter Schönecker at Künz GmbH.
"Container cranes lift extremely heavy loads, which leads to very particular demands on the tyres," added Julian Alexander, product line manager for Material Handling at Continental. "Flat spots or damage to the carcass are not uncommon. The CraneMaster has an exceptionally robust tyre design that has been specially developed for these challenges. This makes it ideal for the Freerider."
In addition, the ContiPressureCheck tyre pressure monitoring system (TPMS) is designed to ensure additional safety. Integrated in the Künz CraneManagement system, ContiPressureCheck informs the fleet operator of information relating to tyre pressure and temperature.
Continental reports that it developed the CraneMaster to improve the efficiency and mileage of port vehicles under extreme loads. According to the company, it offers excellent manoeuvring properties, even when rotating, high stability, low rolling resistance, delayed aging, and optimised wear when compared with conventional tyre.