Vacu Lug visits Vipal in Brazil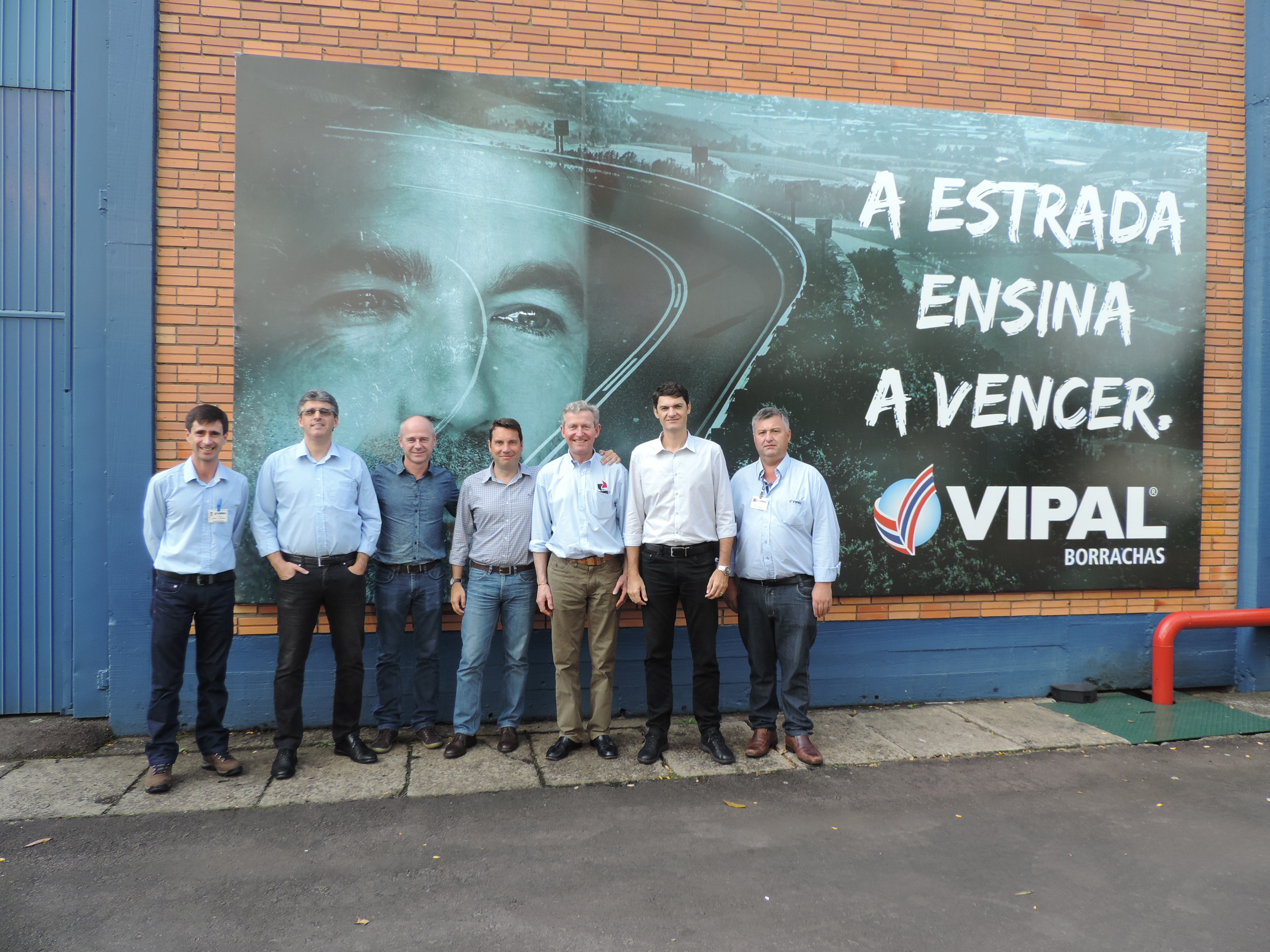 On 5 April Vipal welcomed Vacu Lug managing director, Tim Hercock to Salvador, Bahia as part of a visit to the retreading materials supplier's global headquarters and production base. While Vipal Europe manager, Alessandro Campos and Vipal Rubber international business director Aldo Bastos hosted the trip, Cassiano Peliciolli, Vipal's maintenance and engineering coordinator showed the firm's tread rubber and motorcycle tyre production sites Bastos  initial Vipal institutional presentation.
The next day (6 April) they visited Porto Alegre, where Vipal's administrative offices are located. The following day the group arrived in Nova Prata, where Leandro Rigon, Vipal's international business manager, alongside Jorge Rampon, industrial manager and Henrique Brito, Technology and quality manager, welcomed the group. Through the morning, they visited Vipal's Factory II and its laboratory. By the afternoon, they started their visit at Vicencio Paludo Technical Centre (CTV), a retreading school that aims to prepare manpower specialised in tyre retreading and to serve as a reference for the Vipal Authorised Dealer Network. After that they had the opportunity to visit VipalTec, a laboratory where research and testing for the new and retreaded tyres certification are conducted. The visit wrapped up at the Research and Technology Centre (CPT), a structure maintained by Vipal to develop new processes and enhancements.
Vacu Lug, one of the largest independent retreaders in the UK has been a Vipal client since 2007, operating in the freight, highway, OTR and agricultural tyre segments. Tim Hercock, Vacu Lug's managing director, highlighted the technology used at the company's manufacturing plants. He said he was impressed with the investments that have been made into research and development of new rubber composites and products:
"This visit confirmed how much Vacu Lug and Vipal's businesses have in common; we therefore continue to consider this partnership extremely important for both companies and appreciate these opportunities to swap experiences".
Apart from its three plants in Brazil, Vipal currently also has distribution centres in Spain, Germany, the UK and Slovenia. It also has branch offices and distribution centres in Argentina, Australia, Chile, Colombia, Mexico and the United States (including centres in Florida, Virginia and California), and the Vipal Overseas commercial office dedicated to the markets in Africa and Asia.