New additions to BKT range on show at Bauma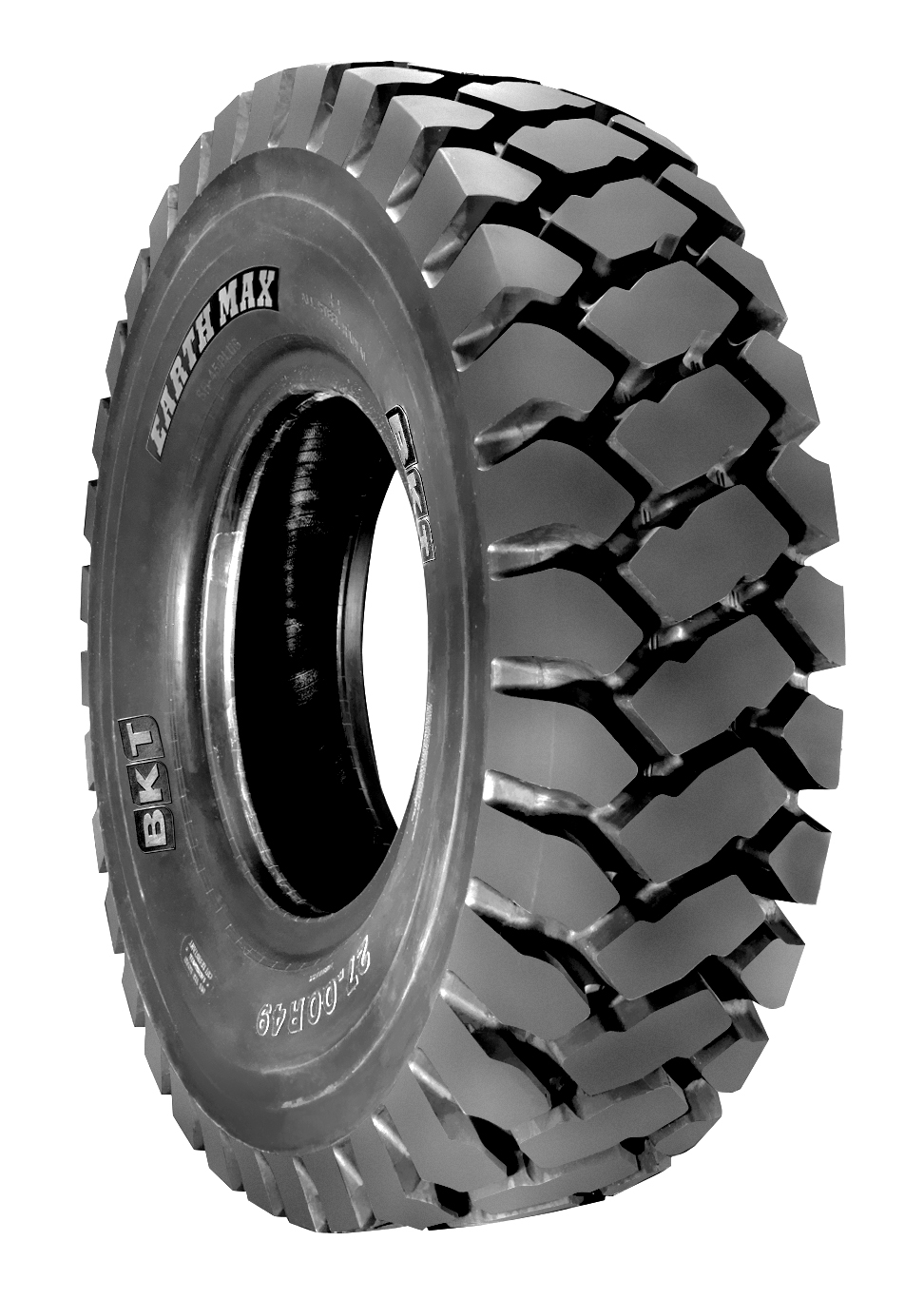 BKT says there is no way of overlooking its presence at Bauma. This comment relates to the company's size 27.00 R 49 Earthmax SR 45 Plus mining tyre, which at an imposing 2.70 metres tall can be easily spotted within the Munich-based exhibition's outdoor area, however it could equally apply to the number of new products that the off-road tyre specialist has brought to the show.
Production of the Earthmax SR 45 Plus began last year at BKT's state-of-the-art new facility in Bhuj. The tyre is designed for use on rigid dumpers, and BKT considers it the "perfect tyre for long-haul transport operations." Its all-steel casing is said to ensure excellent stability and give it good resistance against all kinds of impact damage, including cuts, tears and abrasions, regardless of operating condition. BKT claims high levels of traction with the Earthmax SR 45 Plus and reports that its tread pattern is designed to provide "excellent self-cleaning properties," while minimising vibration and on-road noise.
The giant tyre's brand-new smaller sibling, the Earthmax SR 31, is also on display at the Munich show in its size 23.5 R 25 guise. This all-steel, multi-ply belt radial is designed to provide "extraordinary strength and stability under the toughest operating conditions." BKT says the tyre, which is designed for loaders, dozers and articulated dumpers used in loading and material handling applications, features excellent traction and manoeuvrability in addition to optimal riding comfort.
The Earthmax SR 31 tread is said to be particularly cut and heat resistant, ensuring a long product lifecycle. "The multi-layer steel belts along with the non-directional rigid block pattern stand for excellent traction and manoeuvrability even on muddy ground," reports BKT, adding that the radial casing structure provides for reduced rolling resistance.
New additions to the BKT forklift tyre range on show at Bauma include the Liftmax LM 81 radial, a product aimed at the industrial and logistics sectors. The all-steel casing is said to offer lower rolling resistance and tyre lifecycle, and thus reduced operating costs, and BKT states that the Liftmax LM 81 "provides excellent driving comfort, especially over long distances." This is, the tyre maker adds, an "essential feature for this kind of application." The Liftmax LM 81 is being displayed at the BKT stand at Bauma in size 7.50 R 15.
In addition to the Portmax PM 93, BKT is displaying another new tyre designed for port operations. The Portmax PM 90 is an all-steel, multi-ply belt radial intended for use on reach stackers used in container handling operations. "Strength, resistance and durability are the key features of this tire that ensures maximum stability, an essential requirement in heavy load handling operations," comments BKT. "The steel-belted All Steel casing provides extraordinary strength and an excellent load distribution on the supporting surface – distinctive features making Portmax PM 90 an industrial handling tyre par excellence."
BKT shares that it developed a specific tread compound for the PM 90, and this extends the product lifecycle as it is "particularly resistant against impacts, cuts and wear." The manufacturer adds that the tyre has low rolling resistance. The Portmax PM 90 is on display at Bauma in size 18.00 R 25.