BKT introduces two new Maglift forklift tyres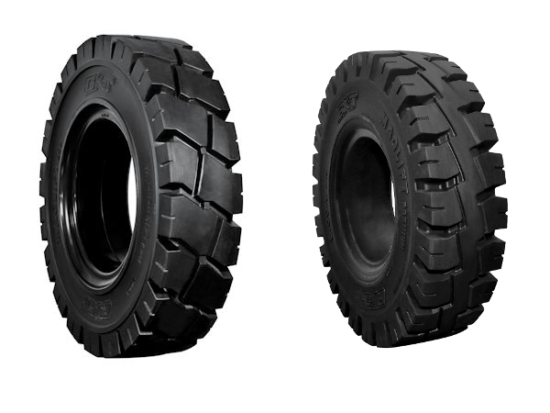 BKT has introduced two new Maglift forklift tyres, the Maglift Eco and Maglift Premium. Both tyres are particularly "wear and cut resistant" thanks to BKT's rubber compound. The manufacturer has employed a softer mixture for the comfort of the operator in the middle part of the tyre section.
The Maglift Eco has a two-layer rubber compound with with very wide lugs to increase stability and load distribution. It also features special rim protection, to protect its mount against damage and dents. The tyre's low rolling resistance and high overheating protection improve the tyre's efficiency, according to the Indian tyre manufacturer. Two versions are available, standard and LIP, the latter of which has a special asymmetric construction to eliminate the need for additional flanges.
The Maglift Premium, on the other hand, was developed for forklifts used on the "toughest jobs". It is equipped with a tread that ensures a long service life. The design of the tread is both robust and aggressive, so that drivers can rely on improved steering control and increased forward and side traction, the tyre manufacturer promises. The central tread grooves assist low rolling resistance. It is also available in both the standard and lip versions.
The full Maglift range is now available in 23 different sizes. Future plans for the Maglift range include further size extensions and a non-marking compound.