Full force in all segments: Heuver Tyrewholesale & its renewed focus on agricultural tyres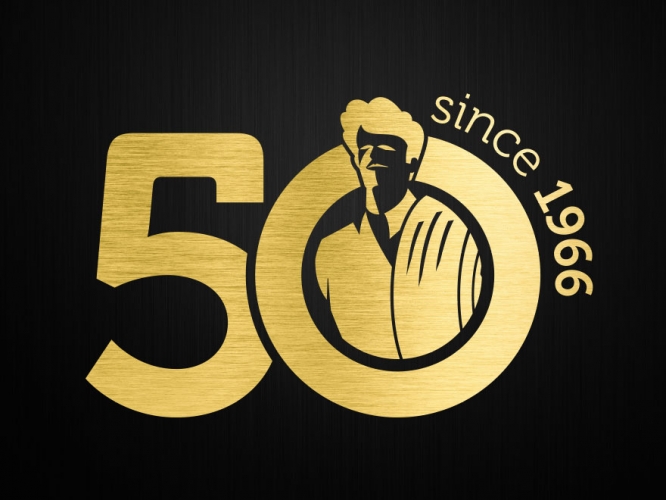 It is now half a century since Mans Heuver entered the tyre business, swapping his job as truck driver for that of tyre dealer and opening a small shop in Den Ham, the Netherlands. Over time he and his two sons, Jan and Bertus, transformed this business into a large wholesale operation bearing their name, Heuver Tyrewholesale. But while the company is looking back on its history throughout the course of this year, Heuver Tyrewholesale is also looking forward to the future. This year sees the wholesaler renew its focus on the agricultural market and increase its efforts with OEM partners.
"Time seems to have flown by and we will be celebrating our 50th anniversary this year," comments Bertus Heuver. The company director adds: "We have experienced so many positive developments recently that this milestone almost crept up on us unexpectedly. But we don't want to let the moment go unnoticed, and we'll be involving our customers from the very start of the year." While the Heuver brothers and the team at Heuver Tyrewholesale plan to mark the company's 50th birthday on 30 April, Heuver Tyrewholesale is celebrating with its customers both through a series of monthly promotions held throughout 2016 and at this year's Reifen show in Essen.
The Reifen exhibition will also showcase a new Heuver Tyrewholesale development, the company's renewed focus upon the agricultural tyre segment. In addition to its regular show stand, the wholesaler will host dedicated exhibitor space for a brand it is now distributing throughout Europe, Barkley. The wholesaler intends to introduce the Barkley concept at Reifen.
As Bertus Heuver shares with Tyres & Accessories, the Barkley brand's rollout sees Heuver Tyrewholesale return to a former company strength. "Years ago, before we made strides in the OTR and truck tyre sectors, we specialised in agricultural tyres. But in recent times we've lacked an agricultural brand that we can focus on Europe-wide. Now, with Barkley, we will make a concerted effort to increase our agricultural business in the entire European market."
Heuver Tyrewholesale began with Barkley a year ago, however it held off from introducing the brand in a big way until product availability was assured. "We didn't want to roll out the brand in full until all the main sizes were obtainable," comments Bertus Heuver. "The full programme has been available since the end of 2015. We started with two patterns and now have four, and further patterns will join the portfolio in 2016." Heuver describes the Barkley agricultural line-up as a "beautiful, modern product," and comments that initial customer feedback has been very positive.
"With Barkley we've filled a gap in the market. We were searching for a good brand that gave us the freedom to sell large volumes in countries like the UK, Poland and Italy." The wholesaler also stocks Barkley truck and OTR tyres and will supply these to markets where it does not sell the Aeolus brand, however the commercial and off-road tyre specialist is not distributing the Barkley passenger car tyre range.
Barkley's introduction has been accompanied by the appointment of a specialist agricultural product manager, Pieter Dubois. Previously employed as an account manager for the Benelux, Dubois' internal promotion enables him to return to his agricultural roots. "Pieter started his career at Michelin, where he gained a thorough technical knowledge of agricultural tyres," says the Heuver Tyrewholesale director. "He knows the market very well, and will use his knowledge, enthusiasm and ambition to extend the success we've encountered in our home markets into the rest of Europe."
Extending Aeolus to the OEM segment
The home market success Bertus Heuver mentions has been achieved with Aeolus, a brand that Heuver Tyrewholesale doesn't hold the rights to in the UK market (Kings Road Tyres does). However, the company is very active with Aeolus in the nine markets where it distributes the range, and sees good opportunities for Aeolus commercial vehicle and earthmover tyres with OEM customers in these markets. Through another internal promotion, the wholesaler aims to build up Heuver's relationships with existing OEM contacts, particularly in the truck segment. Helmut Haak, who was previously account manager for Southern Germany, has taken on this role. "Helmut's a highly experienced and driven employee. He knows how to sell the Aeolus brand and has an almost total knowledge of all things tyre-related," comments Bertus Heuver. "We can't imagine a better person for the role. With his experience and enthusiasm, he can persuade OEMs like nobody can."
While Helmut Haak is committed to working on the original equipment business, aftermarket Aeolus customers benefit from an upgrade to Heuver Tyrewholesale's aeolus-tyres.com web presence. The site went live at the start of this year and offers end users in Germany, the Netherlands, Belgium, Luxembourg, Austria, Switzerland, France, Denmark and Romania an overview of the entire range. "We've noticed that many end users want to do a bit of homework before they place an order with one of the more than 600 Aeolus dealers across Europe, and that is why our renewed site features all technical specifications for the whole Aeolus range," says Heuver. "There is also a dealer search module for our European markets."
Online growth and the personal touch
While the Barkley brand was just getting on its feet in 2015, Heuver Tyrewholesale reports increased turnover from Aeolus and its 'A' brand business during the year, with the truck tyre segment delivering particularly good results and helping the company achieve an overall 18 per cent year-on-year growth in turnover. Both sales volumes and market share rose in 2015, and the number of tyres leaving Heuver's central warehouse in Hardenberg reached an all-time high. The firm also increased the capacity of its warehouse in Bayreuth, Germany by 35 per cent and opened a new warehouse in Saint Quentin Fallavier, near the French city of Lyon.
Online services also continued to grow in importance, as they have done every year since the first Heuver Tyrewholesale webshop was introduced in 2008; turnover generated through the webshop was up 14 per cent in 2015 while e-commerce transactions grew 24 per cent. "We have maximised convenience for our customers," states Bertus Heuver. "The web-shop and e-commerce are becoming increasingly important – online ordering is all about having an order in just three to four clicks. We believe we already have a good webshop, and we're working to make it easier for customers to place orders online. This is also the reason why we developed the Heuver Tyres app. So customers can order in whichever way they please."
In hand with the growing significance of the company's online services, the director still sees a strong need for Heuver Tyrewholesale to offer a personal touch: "Not every customer wants to do business online, and that's fine with us. Personal contact is important for some of our customers, especially customers who've been in the business for many years and those who order large quantities.
In fact, this personal touch remains a focus for Heuver Tyrewholesale as it enters its second half-century. Bertus Heuver says the development of a customer-centric approach is a priority for the company, an emphasis witnessed in Heuver's investment in languages over the past 12 months. "We want and need to offer support in the customers' own languages, this is important for markets such as Italy, where we can't assume that every customer speaks English. We also employ a native Chinese speaker in our procurement department, and this has proven a significant boon for us."
The Heuver Tyrewholesale director says the company's aim is to "go hand in hand with the dealer to the end consumer," and is confident that this approach will facilitate growth in all segments. Two years ago the wholesaler announced a goal of doubling its turnover, and engaging in the agricultural, truck and OTR segments "in full force," as we are now seeing with the introduction of Barkley, brings it closer to achieving this. "As a team we've set an ambitious goal," says Bertus Heuver in closing. "The main thing is to set your goals high. If you don't do this, you're just doing a job."
stephen.goodchild@77.237.250.82