Kobe Steel opens tyre and rubber machinery firm in China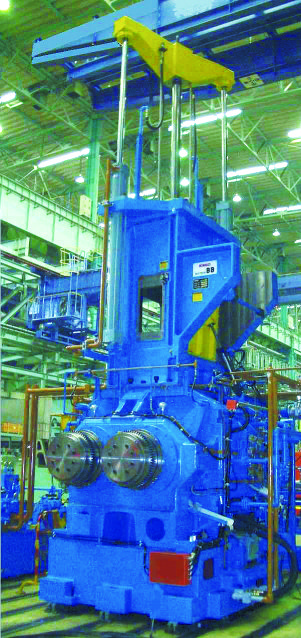 In April Kobe Steel, Ltd. will open a company in China to sell tyre and rubber machinery and provide after-sales service. Kobelco Machinery System Engineering Qingdao Co., Ltd. (or KMQ), based in Qingdao, Shangdong Province will supply rubber mixers, twin screw roller head extruders and tyre testing machines used in the manufacture of tyres for cars, construction equipment and other rubber products. Kobe Steel has invested 2 million yuan (about 40 million yen; £216,000) in KMQ.
Kobelco Machinery System Engineering Qingdao Co., Ltd. was legally established in December 2015, but is set to officially open in April 2016. The Kobe Steel subsidiary is 100 per cent owned by the firm's Kobelco (China) Holding Co., Ltd. Tetsuya Yoshikawa has been named as chairman, while Yoshio Owada is president. A total of 14 people are employed by the business.
Kobe Steel said it has formed the company in order to respond to increased world tyre production, which has been growing at around 3 per cent annually, with China making up a nearly 40 per cent share, citing Japan Automobile Tyre Manufacturers Association figures. The thinking is that demand for manufacturing equipment for automobile tyres must also grow.
Kobe Steel reports that it has supplied over 250 units of tyre and rubber machinery to China to date, something that means the need for after-sales service is also high.
Kobe Steel already has a strong position within its niche as the top manufacturer of rubber mixers. Moving forward, Kobe Steel is aiming for a 50-per cent share of the world market.
Kobe Steel's Machinery Business anticipates achieving overall sales of approximately 1 billion yen for its tyre and rubber machinery in fiscal 2020. Expanding worldwide, Kobe Steel's tyre and rubber machinery business currently has manufacturing and sales bases in four locations: Japan, the United States, China and India.
Kobe Steel's existing manufacturing bases include: Takasago Works in Takasago, Hyogo, Japan, which was set up in 1953 and manufactures of tyre and rubber machinery; Kobelco Stewart Bolling, Inc., in Hudson, Ohio, USA, which was founded in 1986 and also manufactures and sells tyre and rubber machinery; Yiyang Yishen Rubber Machinery Co., Ltd. based in Yiyang, Hunan, China since 1995, which manufactures, sells and offers an after-sales service for tyre curing presses; and finally L&T Kobelco Machinery Co., Ltd., from Kanchipuram, Tamil Nadu, India, which has been manufacturing and selling tyre and rubber machinery since 2010.