Translogik signs probe deal with ContiTrade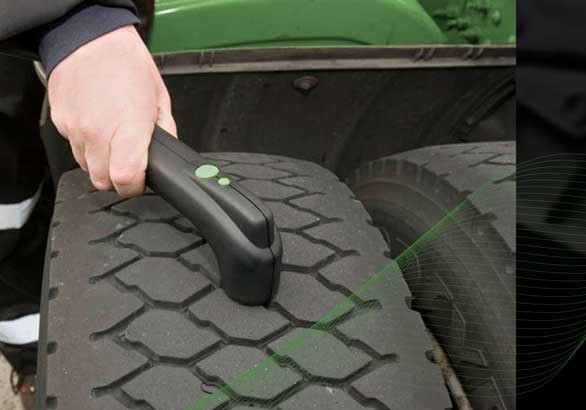 Translogik has signed an agreement with Continental Reifen Deutschland GmbH to supply the German tyre manufacturer's ContiTrade unit with the new iOS compatible version of its TL-G1 Tyre Inspection Probe. 85 kits have been ordered to date as the deployment commences, with significant further orders anticipated.
According to the company, the tyre inspection probes will be used as part of ContiTrade's tyre management system, "FleetFox". This customer-focused system provides accurate, real-time information on tyre pressure, tread depth and overall tyre condition, including any potential damage, in order to provide recommendations on optimal usage and estimates for remaining tyre life and anticipated replacement dates.
Bernhard Bamberger, head of Fleet Management Business Unit ContiTrade and project manager for the development of FleetFox, commented: "For the primary users of the FleetFox system, mainly truck tyre salesman, truck tyre fitters (in-store or mobile service) and roadside mobile support, having robust and reliable tyre inspection hardware is absolutely essential. Consequently, at the beginning of 2015 we realigned our tyre management hardware strategy and re-evaluated all our hardware suppliers. In terms of tyre data measurement tools, Translogik probes were determined to be the best. Our prior experience with the products, and the customer service orientation of Translogik were decisive factors in this decision. Going forward, ContiTrade is planning a fully digital data strategy in its stores, with a strong focus on the consumer and commercial customers. As a long-standing partner of ContiTrade, supplying wireless tyre inspection tools, as well as other complementary services, ContiTrade will lead talks with Translogik about possible cooperation to a much greater extent in the future."
Laren Yeomans, CEO of Translogik said: "The Translogik TL-G1 Probe, which is now used in 41 countries, 17 of these being in the EU, is well on the way to becoming the industry standard wireless tread depth and pressure measuring tool. Having the latest version of the probe used by ContiTrade's large retail network provides Translogik with another significant sales channel."
ContiTrade is the umbrella organisation for Continental AG's tyre retail activities. With over 2,000 locations and over 6,000 employees in fourteen countries it reportedly sold over 5 million tyres in 2014.
Investor websites report that shares in Transense jumped 9 per cent to 1.25p in response to the news.