Remus releases Audi A3 convertible performance exhaust system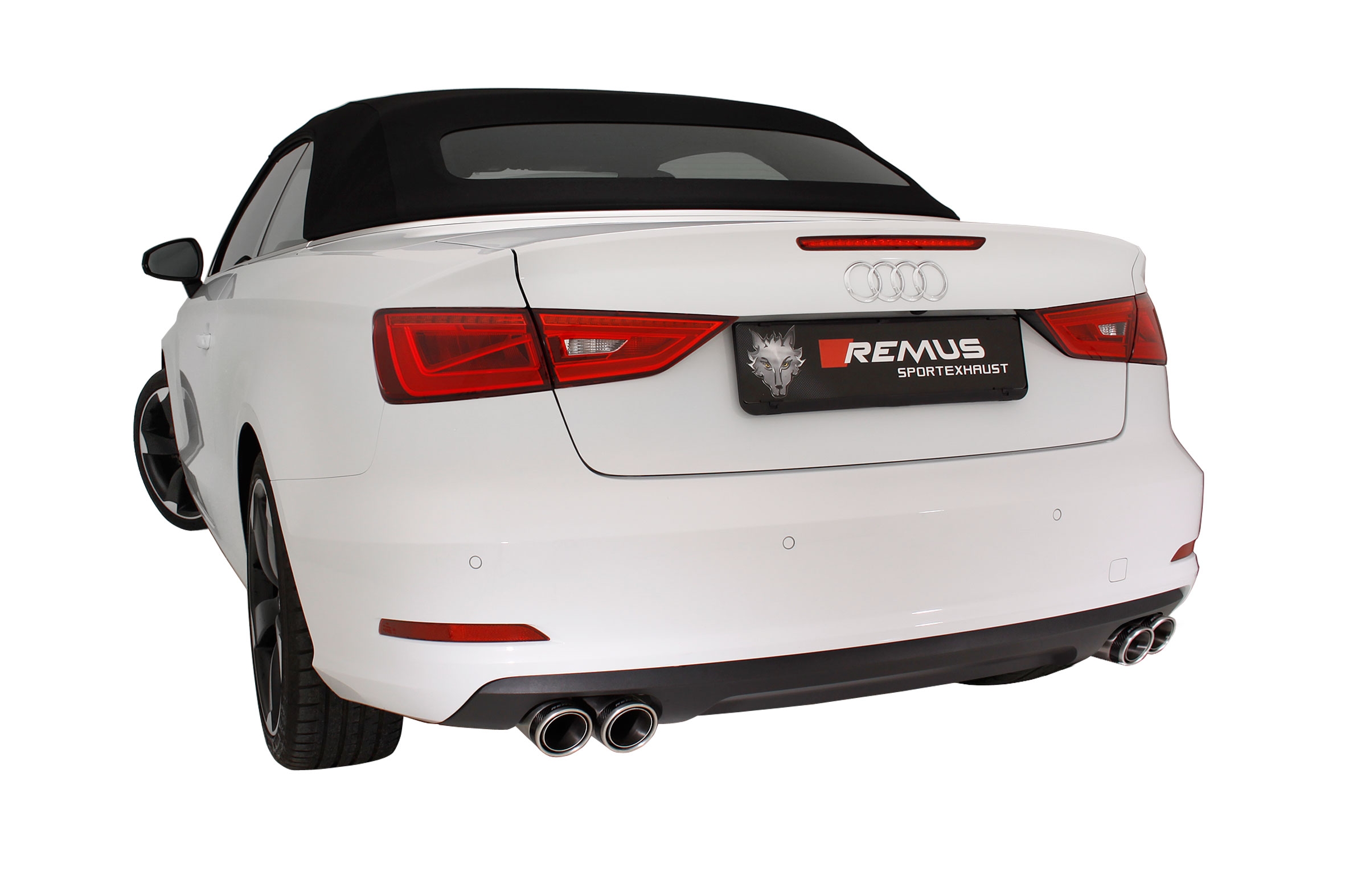 Remus has expanded its range of exhaust systems with a fitment for the popular Audi A3 convertible 8V. The system's features include a lightweight construction, options for both the 1.4 and 1.8 models and the ability to fit with the firm's Powerizer and Responder systems.  The core of the system consists of a series of stainless steel tubes, fully EEC homologated centre sections and, for the lower capacity 1.4 engine, a stainless steel racing tube to replace the OE front silencer. Remus says its own internal testing has seen significantly increased power figures for both engine sizes.
Remus's exhaust design includes adjustable slip-on rear tips in a variety of styles. The four tail pipe packages available include (4x) 84mm angled and chromed with spherical clamp connection, (4x) 84mm Street Race with spherical clam connection, (4x) 84mm Carbon Race with spherical clamp connection and (4x) 84mm Street Race Black Chrome, again with spherical clamp connection. The feature is described as easy to apply, allowing owners to customise their exhaust design.
The Powerizer system can boost peak power by as much as 25 per cent, according to Remus, and torque by 20 per cent. The electronic system allows users to toggle the engine management parameters in real time, optimising the nature of the map multiple times per second in order to ensure peak gas flow at any given time.
The Powerizer can also improve fuel economy thanks to the added torque lower down the rev range. Remus technicians can optimise the Powerizer to suit the needs of the customer, though the instructions included with each kit allow for it to be adjusted at a later date should the need arise, all by pushing the clearly defined buttons on the control unit.
The Remus Responder improves throttle response by adjusting the accelerator pedal output signal, resulting in noticeably reduced response and reduced lag when applied to cars with an automatic transmission. The use of plug and play technology means that, when installed between the OEM pedal sensor and OEM connector, the Remus Responder is ready to use in seconds. The Responder operates using adjustable programming profiles, technology that can lead to improved fuel consumption and more efficient engine running, while the four user-selectable and customisable performance settings give drivers greater freedom to tune the system to their specific needs.