Translogik promotes iTruck system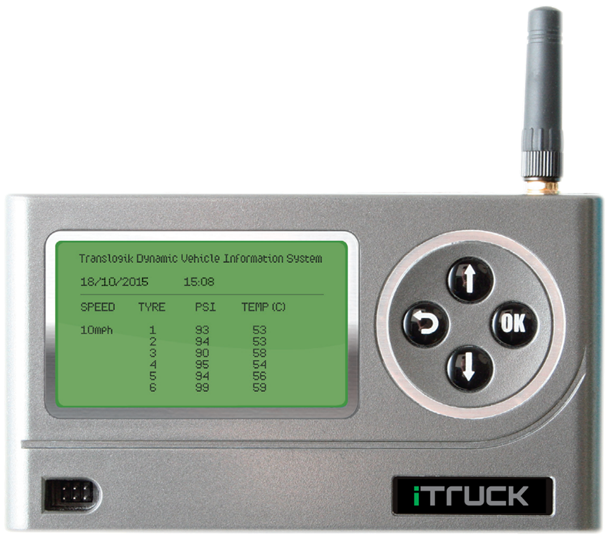 Translogik is promoting is iTruck system, which tracks tyre temperature, pressure, GPS position and vehicle braking information in real-time.
According to the company, iTruck provides a "rugged and reliable solution" that offers detailed early warnings signals of potential tyre related issues. As a result fleet operator and/or service provider can take swift remedial, which could be the difference between safe operation and a major incident/unnecessary downtime.
The system supports its users by helping them ensure the vehicle's tyres are operating within recommended temperature and pressure limits, therefore maximising the value of the tyre investment. From a commercial perspective, by ensuring that tyres are correctly inflated, tyre life is extended, fuel efficiency increased and costly down-time caused from breakdowns reduced.
Once high-temperature, high pressure and low pressure thresholds are set, the system sends out alerts. But even when alerts aren't issue, Translogik reports that live data can be viewed via a web-based monitoring system.
And what's more the system is designed with the tyre business in mind, rather than being adapted from another purpose, according to official literature: "We utilises our own staff to design and manufacture sensors and systems for the automotive industry. We continue to listen to customer feedback which in turn leads to a continuous development programme of our iTruck solution and as new or improved technologies become available."
Translogik provides a range of hardware and software solutions for tyre management and tracking, data collection and fleet management focused to the tyre industry.
The firm's product portfolio includes wireless tread depth data collection tools for truck and OTR vehicle tyre inspections, RFID (Radio Frequency Identification) tags, patches for tyres and general asset tracking. In addition, Translogik delivers a range of temperature and pressure monitoring systems for bus and truck, and the custom designed OTR systems for the Mining industry.