From field to road in 30 seconds with Mitas AirCell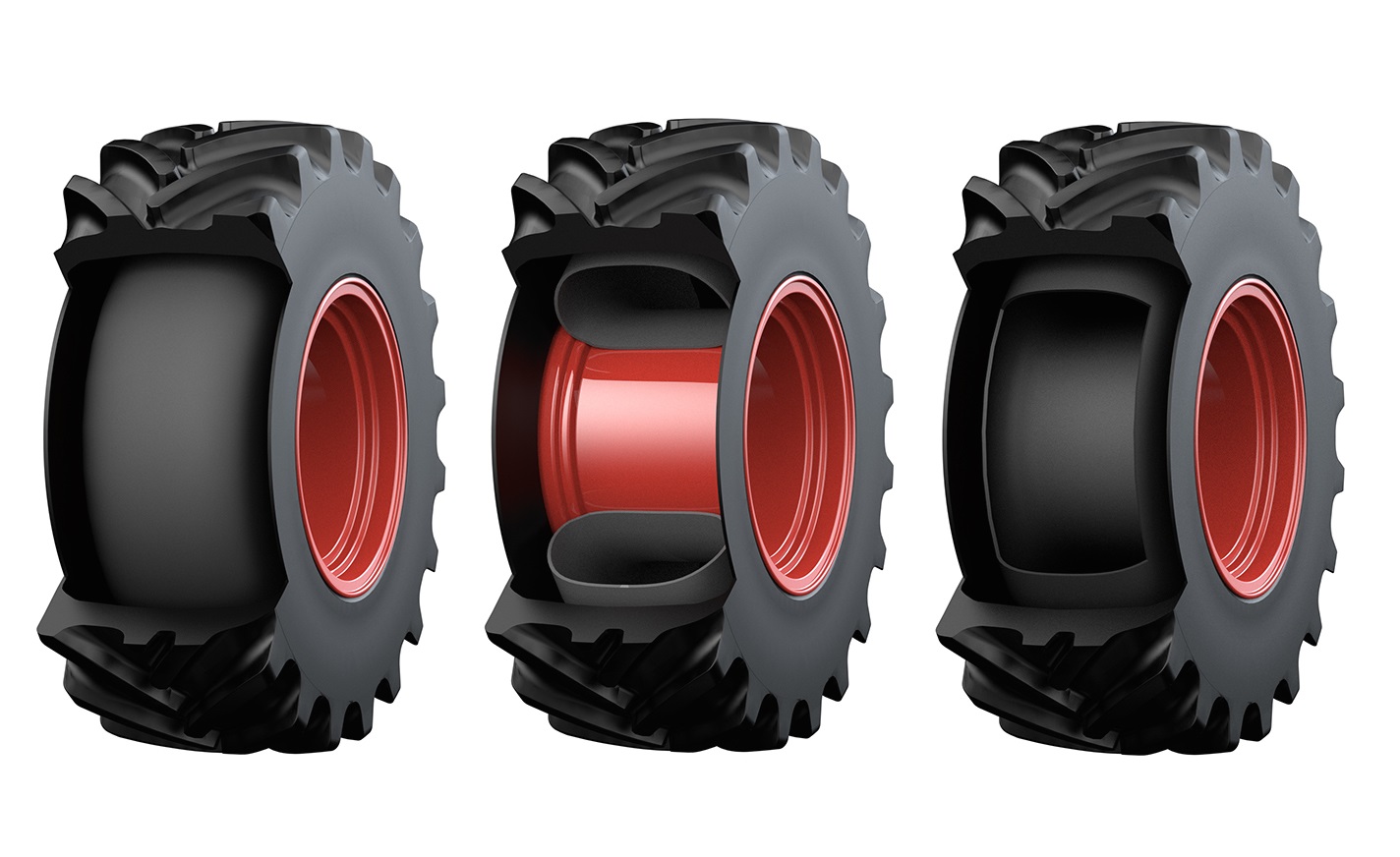 Several years ago, Mitas began cooperating with agricultural machinery manufacturer AGCO to develop an inner tyre that enables equipment operators to rapidly increase or decrease inflation levels in large agricultural tyres by as much as 1 bar. The tyre maker recently launched a product that can accommodate changes between field pressures of 0.8 bar and road pressures of 1.8 bar within just half a minute – more than ten times faster than current methods of inflation.
Mitas calls its innovation AirCell. The technology can be loosely described as a tyre within a tyre; the manufacturer says AirCell is fitted on the rim inside the tyre and occupies about 30 per cent of the tyre's volume. The AirCell inner tyre is continuously inflated to a maximum of 8 bar during use, and some of this pressure can be released on demand into the tyre itself in order increase or adjust pressure in seconds rather than minutes. The innovation will first see action in the original equipment segment with the Fendt brand in November 2016 when it will be fitted in size 710/75 R42 SFT on the Fendt 900, a tractor equipped with VarioGrip Pro, the manufacturer's second-generation tyre inflation system (see textbox).
Mitas says an important characteristic of AirCell is that in addition to allowing for rapid tyre inflation, pressure can be released just as quickly as the volume of the outer tyre is reduced by up to 30 percent. AirCell does not come into contact with the tyre itself and therefore doesn't create any additional friction or heat. Mitas AirCell is made from sturdy rubberised materials and retains its shape even when inflated to high pressures, and therefore the volume of the outer tyre isn't dependent upon AirCell inflation levels. The development these materials and the AirCell's construction were "key" for the functioning of the VarioGrip Pro system, the tyre maker adds.
"Mitas AirCell was developed to reduce tyre filling waiting time, cut fuel costs, protect the soil, increase the life of the tyre and improve handling characteristics during on-road transportation," comments Hans-Ulrich Klose, head of the Mitas automotive engineering unit. "Mitas AirCell also provides synergies for the integration of tyre inflation systems into the complex structure of high-tech tractors. At Mitas, innovations which benefit the farmer and agriculture are a key development goal. Mitas AirCell brings the advantage to farmers and contractors who need to change pressures quickly from low inflation during field work to higher pressure for better fuel efficiency during on-road transportation and vice versa."
Tyres containing AirCell technology are manufactured at one of Mitas' factories in the Czech Republic. In addition to the 710/75 R42 SFT size, AirCell will be introduced in further sizes, including 710/70 R42 SFT.