New products, sizes join ContiTread pre-cure tread range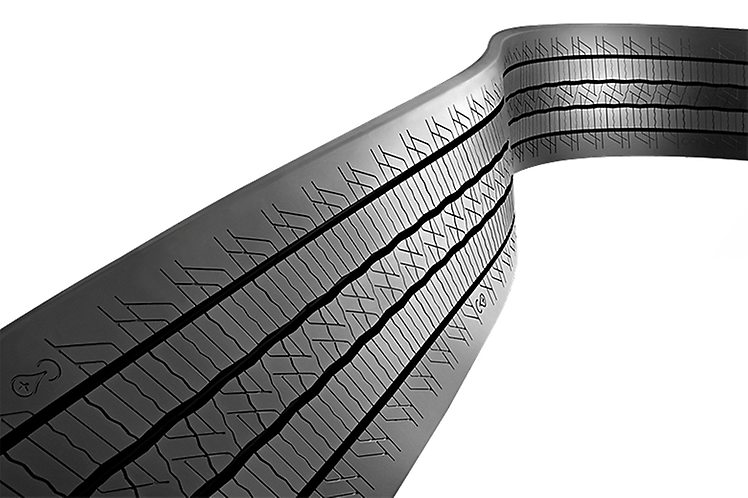 The ContiTread range of pre-cure commercial vehicle tyre treads has been expanded by a number of new products, including the first 'third-generation' treads to be made available for pre-cure retreaders. Continental refers to the enlarged ContiTread range as a "comprehensive portfolio" that caters to a variety of segments and commercial vehicle classes.
The third-generation products entering the ContiTread fold are the Conti CityPlus HA3 and Conti Urban HA3 patterns, which are specifically designed for passenger transport. The two bus tyre treads are available in the following sizes:
Conti CityPlus HA3:
11 R 22.5
12 R 22.5
275/70 R 22.5
295/80 R 22.5
315/80 R 22.5
Conti Urban HA3 (M+S labelled):
275/70 R 22.5
295/80 R22.5
In addition to adding third-generation treads to the ContiTread range, Continental has also released new treads for trailers and construction site vehicles. The HDC1 tread is now available in the HDC1 (M) variant. This new tread has a lower tread depth than its regular counterpart, offering a more cost-effective alternative for efficient use in construction-site traffic when used as a tyre with lower performance expectations based on its application. The HDC 1 and HDC 1 (M) are available in the following sizes:
12 R 22.5
13 R 22.5
295/80 R 22.5
315/80 R 22.5
In the goods transport segment, the HTL1 Eco Plus tread is now produced for trailer tyres in size 445/45 R 19.5. This new pre-cure size is Continental's response to growing demand for tyres for high-volume transport. The HTL 1 Eco Plus is now available in the following sizes:
445/45 R 19.5
385/55 R 22.5
385/65 R 22.5
And just in time for the upcoming winter season, Continental has rolled out a number of pre-cure winter tyre treads. The M+S marked HDW 2 Scandinavia drive axle tread is available in the key sizes 315/80 R 22.5, 315/70 R 22.5, and 295/80 R 22.5. The ContiTread winter range is rounded off with the HTW 2 Scandinavia winter tread for trailers and semitrailers in sizes 385/65 R 22.5 and 385/55 R 22.5.
All ContiTread treads are based on the same tread designs, compounds and technologies used for new Continental tyres. The treads are optimally designed for use with Continental tyre casings, however the tyre maker says they "also achieve very good results" when retreaded upon casings produced by other premium manufacturers.