New tyres bolster leadership in flotation radial segment, says ATG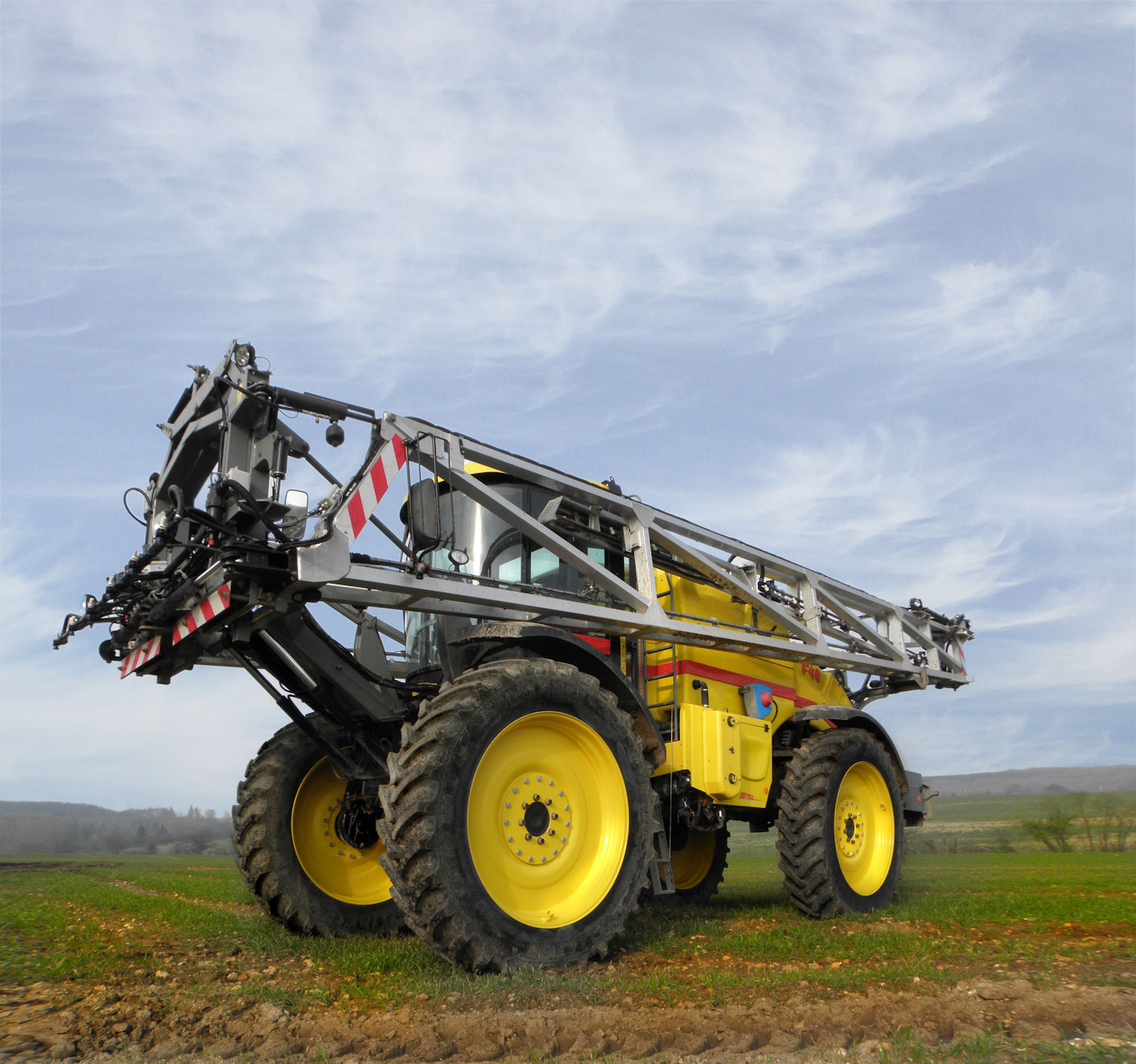 Off-highway tyre maker ATG brought several new innovations to the Agritechnica show earlier this month. These included its new VF (Very High Flexion) sprayer tyre, the Alliance 354 AgriFlex+. Amongst the tractor and combine harvester tyres on display were the new Alliance 376 MultiStar IF (Improved Flexion) and the large volume 378 AgriStar XL. The flotation and agri-transport category was represented by the Alliance 380VF and 390MPT flotation radials plus the new 885 Flotation Radial in a 26.5 inch rim diameter.
"With its leadership position in the flotation radial tyre category, Alliance is geared to meeting the changing trends and growing requirements of the agri-transport segment," commented ATG chief executive officer Yogesh Mahansaria. "We thus introduced three key sizes which will contribute to the ever increasing performance that is expected from agricultural machines."
354 AgriFlex+ – size VF480/95R50
The new 354 AgriFlex+ VF series was primarily developed for large capacity self-propelled sprayers and row crop tractors. These tyres are characterised by their R-1W directional lugs that were specifically designed to provide excellent grip on soft surfaces. According to ATG, 354 AgriFlex+ tyres offer longer tread life, higher comfort, and lower rolling resistance during road transport compared to standard radial tyres. The larger footprint also provides traction and minimises soil compaction. The steel belted casing structure ensures uniform ground pressure distribution whilst providing outstanding puncture protection.
The 354 AgriFlex+, presented at Agritechnica in size VF480/95R50, has a 'D' speed rating and is approved for road speeds as high as 50mph or 65km/h. This is ideal for modern high capacity, high speed self-propelled sprayers that often have to cover long distances between fields and supply facilities. "These tyres allow for higher tyre deflection and enable farmers and contractors to increase their productivity whilst lowering operating costs," commented Dr George Ronai from ATG's research and development team. "The tyres can either carry 40 per cent more load with the same air pressure as conventional radials or require 40 per cent lower inflation pressure for the same load capacity."
376 MultiStar IF – size IF1050/50R32
The new 376 MultiStar IF series was primarily developed for combine harvesters and self-propelled or towed large capacity liquid manure spreaders (LMS) and tankers. These tyres are characterised by the R-1 directional lug which was designed to provide excellent grip on soft surfaces. ATG notes that when compared to standard radial tyres, the 376 MultiStar "clearly" offers higher comfort and lower rolling resistance.
The extra-large footprint also provides effective traction and minimises soil compaction. The steel belted casing structure ensures a uniform ground pressure distribution and provides outstanding puncture protection at the same time. These qualities are ideal for modern heavy and large capacity vehicles such as self-propelled LMS and tankers. "These tyres can either carry 20 per cent more load with the same air pressure as conventional radials or require 20 per cent lower inflation pressure for the same load capacity," highlights Dr Ronai. "That is particularly beneficial as reducing tyre pressure lowers the risk of soil compaction. In addition, these tyres offer increased traction and reduced wheel slip, which in turn also helps to protect soils."
378 AgriStar XL – size 900/60R42
The Alliance AgriStar XL large volume series was specifically developed for the application on high horsepower tractors (180HP and above) and combine harvesters, and can also be employed on large wagons and spreaders. ATG says it was developed with a clear focus on the modern and efficient machines that are used in agriculture today, and it describes the AgriStar XL as being the "perfect match" for such machines. The tyre maker adds that the AgriStar XL's specific tread pattern and construction makes the tyre particularly suitable for a wide range of applications. Its R-1W tread pattern also provides high traction and efficient self-cleaning properties in the field.
Steel belts reinforce the tyre's strong textile casing, and ATG says this guarantees stable tyre dimensions which result in a comfortable and smooth ride and excellent puncture protection. The large footprint of the AgriStar XL lowers soil compaction whilst the wear resistant rubber compound used in the tread provides the tyre with a longer working life. The 378 AgriStar XL is available with the same tread design for different aspect ratios, making it ideal for today's high HP tractors which use tyres of different aspect ratios on front and rear axles to maximise tyre volume.
Alliance 380 VF – size VF 650/55R26.5
The ability to carry large payloads quickly and soil-conserving is one of the key prerequisites for agricultural tyres. As a pioneer and leader in agri-transport flotation radial tyres, ATG's Alliance brand has a large portfolio for agricultural transport and other uses. One of the innovative products presented in 2015, the 380 VF pattern in size 650/55R26.5, can either carry up to 40 per cent more load compared to its standard flotation variant with the same air pressure or the same load with a 30 per cent lower inflation pressure, which in turn allows for markedly better soil conservation. The 380 VF offers a 25 per cent larger footprint when compared to its conventional radial variant, thus causing significantly lower soil compaction.
Alliance 390 MPT – size 24R20.5
The popular Alliance 390 design is now available in the size 24R20.5 MPT. The 390 MPT is a heavy duty all steel radial flotation tire for high-speed trailers. The block type tread design in combination with the wide tread and the large inner volume allow for exceptional flotation capabilities and reduced soil compaction. These tyres are ideal for off highway agri-transport, and the evenly spaced, deliberate tread design offers outstanding self-cleaning properties.
885 Flotation Radial
The 885 Flotation Radial is a new generation radial flotation tyre engineered for use on balers, grain wagons, cultivators, fast moving small agricultural trailers, wagons and trailers. Characterised by higher load capacity and working speeds, these tyres also offer superior distribution of pressure on the soil surface. The high crown radius provides a maximum footprint area that adds to the tyre's flotation characteristics. For road transport, the large lug contact area at the tyre centre line allows for a smooth and comfortable drive. On pasture and turf, the tyre's rounded shoulders cause least possible damage to soil and plants. Low wear tread compounds and lower rolling resistance characterise the 885 Flotation Radial which also allows for enhanced fuel efficiency. A strong bead bundle, with an extra thick reinforced sidewall and a high turn up of plies around the bead ensure excellent stability and protection against external damage. The 885 is, like other Alliance flotation radials, steel belted.
Commenting on ATG's presence at the German trade show, Angelo Noronha, the company's head of sales for Europe, commented: "Agritechnica is an important show for us. Being the largest show of its kind, it provides us with the right platform to showcase our new products and technology that we offer to the end user and OEMs". He added that "Europe is a very important market for us and we believe we can offer the right product mix to grow in the market, both in the aftermarket and with OEMs".
"Alliance Tire Group is investing tremendous resources and efforts in research and development in order to provide the market with the very best and latest in Off Highway Tire technology," added ATG Europe president Peter Baur. "The launch of IF and VF tyres as well as large volume tyres in recent times is a testimony to the effort. We realise that agricultural machinery such sprayers, tractors, combine harvesters, self-propelled tankers and spreaders of liquid manure are evolving rapidly to further enhance overall productivity. As this segment will see further significant growth in the years to come, ATG is geared to providing efficient and high-quality solutions with the right mix of tyres."