Agritechnica Innovation Award for Alliance 398 MPT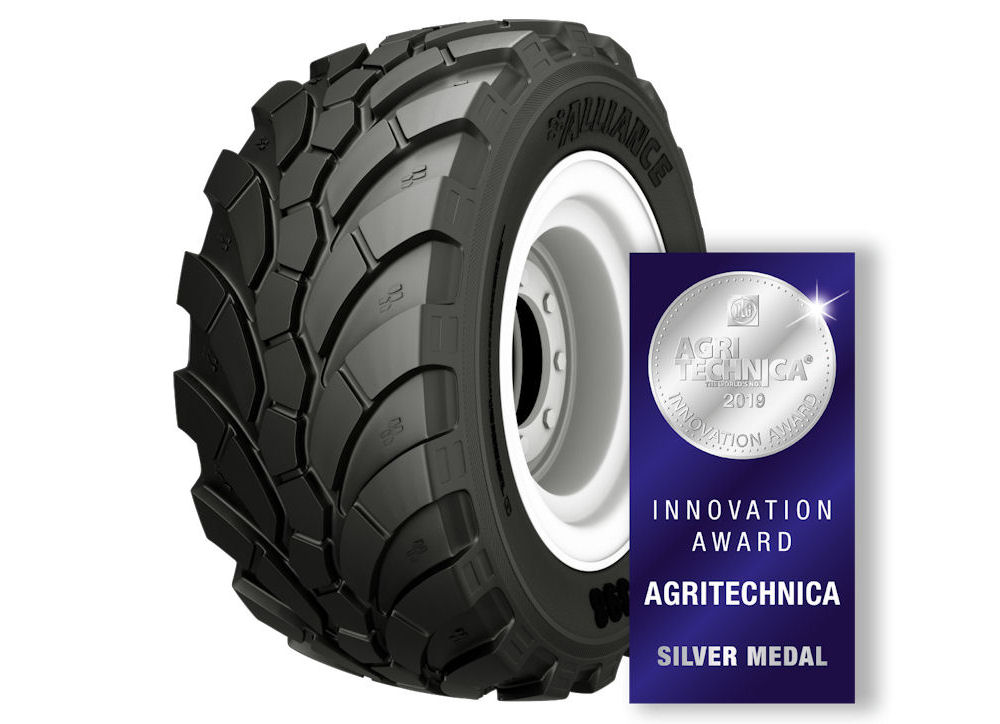 After examining 291 finalists, an independent expert commission appointed by the German Agricultural Society (DLG) has selected the Agritechnica 2019 Innovation Award winners. In addition to bestowing a single Gold Award, the judging panel has given the Silver Award to 39 firms who've brought innovative products to market in the past couple of years. One such firm is Alliance Tire Europe, which received a Silver Award for its Alliance 398 MPT high-speed flotation tyre. Alliance Tire is the only tyre maker to be awarded.
The Alliance 398 MPT is the first agricultural tyre developed to work at speeds of up to 100km/h. Designed for agricultural trucks, the tyre behaves as an agricultural tyre in the field and as a fully on-road tyre on sealed surfaces. This means that trucks used in agricultural and forestry applications no longer need to park at the edge of a field and wait for crop loads to be delivered. Instead, they can drive directly onto the field and work alongside harvesting machinery before returning fully loaded to the road. Additional equipment such as grain carts is thus eliminated from the cycle, thereby reducing manpower, time and fuel consumption, whilst boosting the efficiency of operations.
The 398 MPT features an all-steel radial flotation construction that offers traction, high load capacity and good flotation and soil protection in the field. The construction also covers the requirements of driving at speed on the road, such as stability, low noise and vibration, low heat build-up and comfort.
A Central Tire Inflation System (CTIS) rapidly lowers pressure when moving from road to field, and then returns it back from 0.8 bar to 6.5 bar when returning to the road.
"Alliance has been developing tyres since the 1950s, being an absolute leader in flotation technology. This Innovation award is a tribute to Alliance engineers who broke a myth and delivered an impossible – a tyre which combines the best of two segments in one innovative and game-changing approach," says Angelo Noronha, president Europe for Alliance Tire Group. "It is definitely a new chapter in the history of tyre industry and agricultural operations."
The Agritechnica 2019 Gold Award went to John Deere Walldorf for its eAutoPower gearbox for the new John Deere 8R large tractors.