Battlax Hypersport S21 launch a Bridgestone EICMA highlight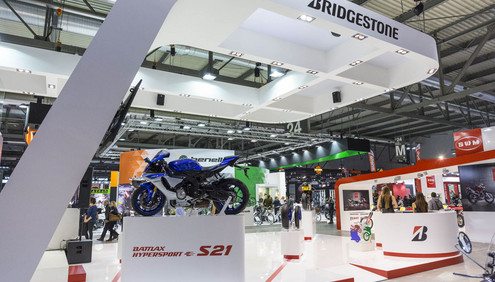 The EICMA International Motorcycle Show in Milan, Italy begins today, and Bridgestone is on hand with several premières. The tyre maker says the star of the show at its 178m² stand (Pavilion 24, stand M77) is the new Battlax Hypersport S21, which will be shown for the first time at EICMA 2015 and is on display fitted to the new-generation 1-litre Yamaha R1. Bridgestone is also presenting its latest flagship hypersport wet racing tyre, the Battlax Racing W01, for the first time ever.
A Bridgestone pre-show statement describes the S21 as a tyre that combines the "proven wet platform" of the S20 EVO with "innovative new features to upgrade dry performance." It reports having engineered the S21 to give hypersport riders "the sort of handling they could only dream of until now."
The Battlax Racing W01 was designed around the tread pattern of the 2015 MotoGP wet, and the W01 is said to be "the latest example of Bridgestone's ability to spin off its Grand Prix experience for the benefit of riders everywhere." The tyre maker urges riders to "watch out for Battlax W01, a wet racing tyre destined for the podium!"
Sustainable motorcycling
Still on the subject of world premières, the first all-electric Saroléa Manx 7 superbike homologated for the road debuts at EICMA, and Bridgestone expresses pride in the fitment of its Battlax RS10 racing street sport radials on this bike. This Manx 7 street bike is directly derived from Saroléa SP7 which competed strongly in the Isle of Man TT Zero race in 2014 and 2015, and Bridgestone provides technical support and tyre expertise to Saroléa in a joint commitment to sustainable mobility. "This homologation is a big step forward in the journey towards zero-emission motorcycling," states Bridgestone.
Size expansions
Other new products on display include size expansions: The Battlax T30 EVO touring tyre now moves from three initial sizes to a full line-up, the Battlax Adventure A40 has been expanded to fit the top-selling BMW R1200GS (front 110/80 R19, rear 150/70 R17), and the Battlax SC, which is now in the second year of a three-year size expansion programme to match proliferation in the European scooter market.
Last but not least, Bridgestone's stand in Milan includes the recently-launched Battlecross X20, X30 and X40: a motocross line-up for all types of terrain, developed on the track with professional riders in top competitions.