New Bridgestone motorcycle hypersport tyre blends old and new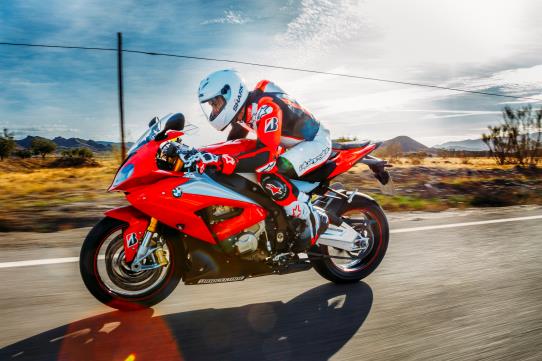 At EICMA 2015, Bridgestone will unveil its new Battlax Hypersport S21 radial – a tyre that blends proven wet weather technology and innovative new features, giving impressive performance in all conditions and on all surfaces.
The wet weather performance was taken from the well-proven S20 EVO and Bridgestone combined this with innovative new features to improve dry performance and increase mileage. In the S21, the company says, stability, handling and cornering have all been improved through a modified pattern that enhances tread rigidity and contact patch performance.
The front tyre is designed with a smaller crown profile for better handling and precision through corners without losing the superb neutral feeling, together with a triple-layer compound and high-stiffness bead fillers for optimum damping and stability.
The rear tyre has a larger crown profile which together with the optimised belt construction and groove positioning, upgrades the rear feeling and increases cornering stability. Less slip in the contact area reduces wear, adding to mileage.
Both front and rear tyres have a new shoulder compound, developed with Bridgestone's advanced expertise at the molecular level, which provides a larger micro contact patch for higher grip, more confidence and faster cornering in wet and dry.
"We wanted a tyre that gives riders the best that these new superbikes can offer. By keeping top level wet performance while upping stability and cornering grip, Bridgestone has achieved this with Battlax S21" explains Jake Rønsholt, managing director, consumer business unit, Bridgestone Europe.
Many of the improvements brought to S21 were achieved using Bridgestone's new Ultimate Eye (U-EYE) indoor testing facility – the first tyre to benefit from this technology. U-EYE visualises the contact behaviour of a tyre under different speeds and conditions, analyses contact patch pressure distribution, and helps find the optimal combination of compound, tread design, construction and profile.
The performance of the new Battlax radial has been tested and proven on the track in wet and dry conditions. Testing by Bridgestone versus S20 EVO shows the advantage of greater stability with S21 clocking significantly higher cornering speeds at entry, keeping a sharper line and leaving with faster acceleration, cutting average lap times by almost 2 per cent. Overall S21 represents a real step forward in dry performance – particularly cornering stability and handling. The icing on the cake is that mileage has also been improved; by 36 per cent.
Battlax Hypersport S21 will be available in Europe in four front and six rear sizes to be introduced in early in 2016.