Shoes and tyres – Hankook presents first fruit from Vibram collaboration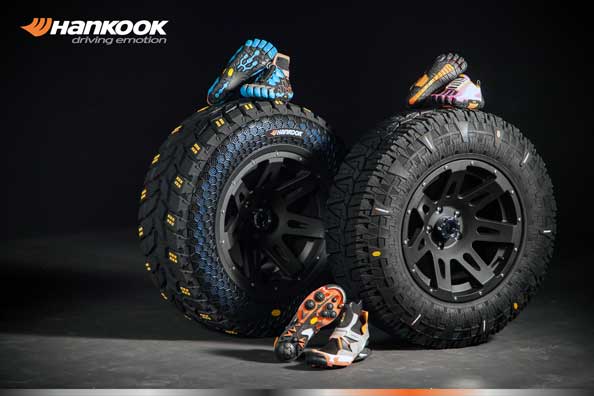 The Frankfurt motor show has been a hotbed of announcement activity for Hankook Tire. In addition to an IAA launch of its Laufenn brand in Europe, news of original equipment tyre supply for the latest generation Audi A4 and the Volkswagen Touran, and the release of a lower rolling resistance Ventus S1 evo² and its fitment on the Mercedes-Benz C350e plug-in hybrid, the tyre maker has discussed its strategic partnership with shoe outsole company Vibram.
According to Hankook, this cross-industry collaboration has enabled the development of both "futuristic concept tyres and shoes." Hankook has utilised Vibram's "hyper-functional design" for its latest concept tyres, while simultaneously enabling Vibram to integrate cutting-edge tyre technologies into its footwear offerings. In total, five products have been unveiled: Hankook Tire is releasing two off-road concept tyres, the DynaMIX and DynaSYNC, and Vibram three concept shoes, the DynaTREK, DynaSTRYKE BKL, and Omnifuse. The shoes will serve as successors to Vibram's popular Vibram FiveFingers lineup.
The DynaMIX and DynaSYNC were inspired by the flexible blocks found on the outer soles of Vibram's hiking shoes. These blocks are designed to change their contact positions in response to variations in ground surface. The use of different layer structures also allows for multiple style choices.
According to Hankook, DynaMIX tyres take advantage of Vibram's Ultra-light 3D Cocoon Technology. Multi-direction geometric dimensional blocks serve to protect the tyres from road impacts. At the same time, traction, block stability and flexibility are improved while sidewall weights are reduced. The tyre maker says the DynaMIX's three-dimensional tread pattern excels in tough off-road conditions. The texture and design of particular tread blocks in the pattern have been tailored to maximise overall performance. The tyre's "glitter surface" is polished to enhance handling and wet performance and to promote greater control at higher speeds. And finally, the geometric sidewalls integrate Hankook's wet-tech holes, enabling the sidewalls to achieve greater flexibility and disperse shocks.
The DynaSYNC features Vibram's 'Carrarmato' lug design on its tread pattern; these lugs, says Hankook, improve traction in mountainous terrain. The presence of honeycomb structure grooves aim to prevent punctures or tyre chips due to gravel or stone, while improving shock absorption and providing "powerful and safe" handling. And the tyre's sidewall is available in a variety of colour compounds, allowing vehicle owners to match the tyres to the colour of their car. The sidewall structure is dual layered; Hankook reports that this configuration helps prevent cracking by enhancing block stiffness and reducing severe deformations during cornering and high-speed manoeuvres.
Vibram's DynaTREK and DynaSTRYKE BKL concept shoes are respectively paired with the DynaMIX and DynaSYNC concept tyres as sister products. The DynaTREK boasts a high performance outdoor/hiking outsole and uses the same Ultra-light 3D Cocoon Technology found in the DynaMIX to provide enhanced protection and shock absorption. It also sports the DynaMIX's center stripe around the entire sole, highlighting the collaboration story between the two brands. The DynaSTRYKE BKL reflects the performance attributes of the DynaSYNC. The Megagrip rubber outsole and the interlocking lugs are said to provide "unparalleled winter running performance" in a Vibram FiveFingers shoe. Moreover, Hankook says the thermochromatic pigment applied to the DynaSTRYKE BKL "induces a subzero appearance with the colour shifting at the toes." The tyre maker adds – and please don't ask us what this means – that the Omnifuse "adapts motifs from conventional tyre products."
"This joint project fits ideally with our ongoing commitment to investing in technological innovations and performance-oriented designs," commented Ho-Youl Pae, head of Hankook Tire Europe. "Moreover, from a macro-perspective, the project reflects Hankook's longstanding core company value – progressive innovation. This momentum will be carried forward in the future as the company continues to take an authentic, meaningful approach to meeting the challenges of future driving experience."