WMG leading £14 million UK automotive battery research project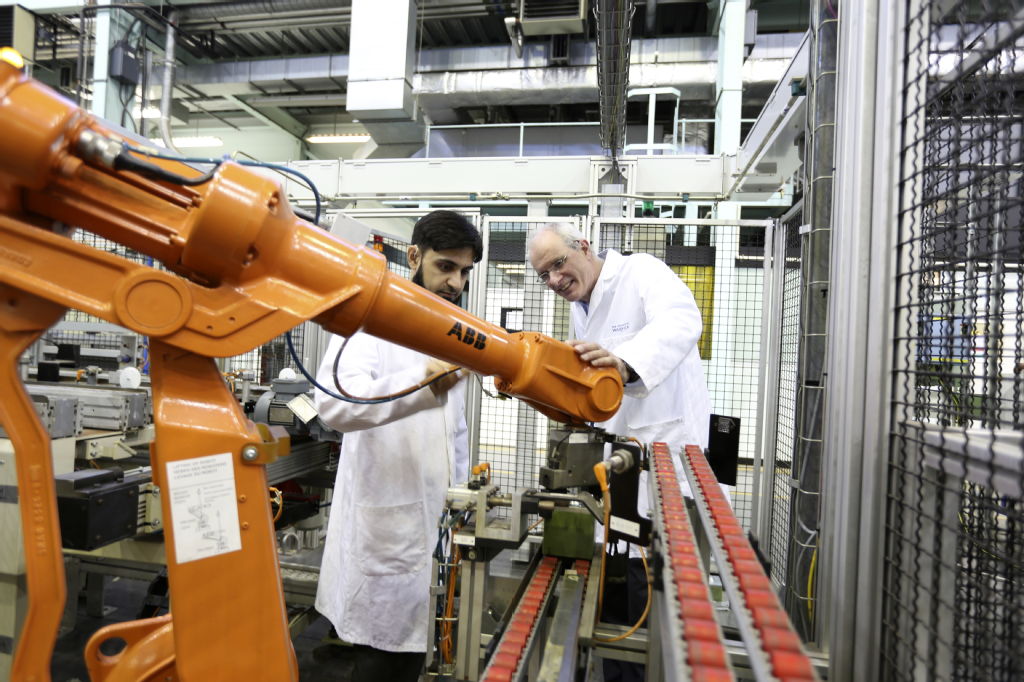 A new automotive battery pack manufacturing research centre is to be set up in Coventry and will work on developing the next generation of traction batteries for electric and hybrid vehicles. The University of Warwick's WMG will lead a 14 million consortium known as AMPLiFII (Automated Module-to-pack Pilot Line for Industrial Innovation). Government agency Innovate UK is funding the project to the tune of £10 million.
Upon announcing the creation of AMPLiFII on 9 September, the University of Warwick stated it will "combine the best human and automated assembly methods to manufacture battery packs and lay the foundations of a new UK automotive supply chain based around this technology." AMPLiFII will work on developing new knowledge, skills, technology and facilities to support companies within the UK that seek to use these new technologies and processes in vehicle battery systems.
The WMG-led project brings together Jaguar Land Rover, JCB, Alexander Dennis (ADL), Ariel Motor Company, Panasonic Automotive & Industrial Systems Europe (PAISEU), Vayon Group, Delta Motorsport, Potenza Technology, RDVS, Trackwise, Horiba MIRA, The University of Oxford, and Axion Recycling. The work also supports the UK Advanced Propulsion Centre (APC) National Spoke for Electrical Energy Storage.
Within the project, the OEMs – Jaguar Land Rover, JCB, ADL, and Ariel – will provide battery requirements and coach the supply chain to meet full automotive quality, performance, robustness and safety standards. The supply chain partners – Delta Motorsport, Potenza, Vayon Group, RDVS, PAISEU and Trackwise – will design and develop the battery systems to meet these requirements. Technology partners – WMG, Horiba MIRA, and the University of Oxford – will support the design, development and manufacturing process, while Axion will develop the lifecycle management of the battery system, including its recycling, remanufacturing and/or repurposing at end of life.
As well as leading the project, WMG will host the pilot manufacturing line as part of its Energy Innovation Centre on the University of Warwick campus. "The global energy storage market will be worth US$50 billion by 2020; of this, $21 billion will be in transportation," commented Professor Lord Bhattacharyya, chairman of WMG. "Automotive is well on its way to displacing consumer electronics as the biggest user of energy storage. This project will play a significant role in the evolution of that market by creating a UK supply chain for battery packs to suit hybrid and electric vehicles requiring volumes from hundreds to thousands of units per year. It will also create a lasting facility at WMG for the development of future battery packs. This will also create thousands of jobs in this field."
"The volumes of battery packs traditionally required in this market have found it difficult to justify the high levels of development cost and effort," added Professor David Greenwood from WMG, University of Warwick. "However by developing and creating a modular battery architecture, based on cylindrical cells for both high power and high energy requirements, the supply chain will be able to aggregate demand for components from many applications and benefit from significant economies of scale. AMPLiFII will create a battery supply chain with mass-production standards of robustness that is high quality, low cost and fast to market."
Upon completion of the research project the pilot line will become an open facility at WMG, operating alongside the national cell scale-up facility already at WMG, and form part of the APC's 'Electrical Energy Storage' spoke.