Hankook now supplying tyres to third major European truck maker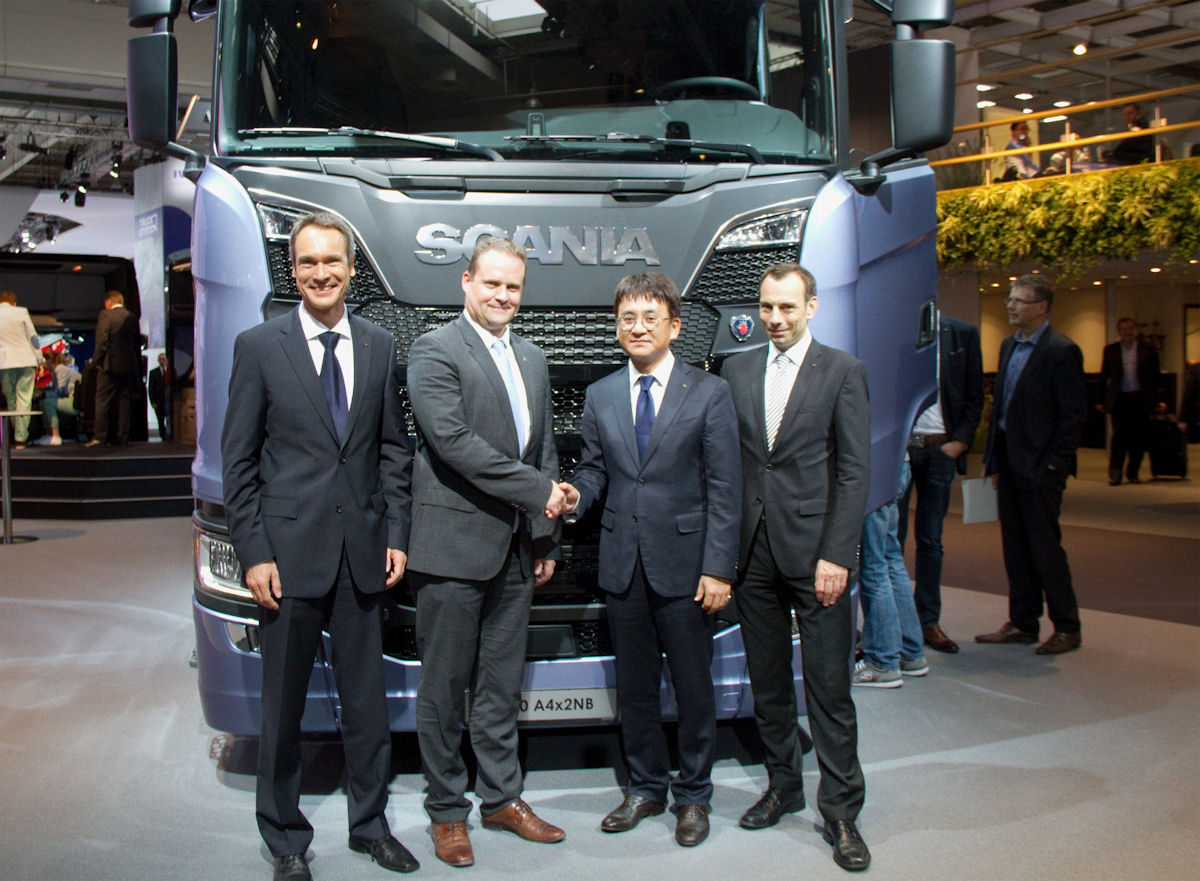 In addition to unveiling several new products, Hankook Tire's big news from the IAA Commercial Vehicles show is its approval by Scania as an original equipment tyre supplier. As of November, Hankook Tire will supply 18 tyre dimensions to all Scania truck and bus models produced in Europe. According to Stefan Brückner, Hankook OE account manager Europe, 11 of these 22.5 inch dimensions will be for the important long haul segment, and the other seven for regional haul applications.
Tyres to be shipped to Scania include the e-cube MAX for long-haul traffic and the SmartFlex, an all-season tyre for medium-haul applications; this second tyre is suitable for a number of vehicles, including the recently optimised Scania Euro 6 model. From 2017 onwards, Hankook will also supply the SmartWork, a tyre designed for construction site applications.
"The cooperation with Scania in the original equipment segment is real proof of the quality of our products, since the e-cube MAX, SmartFlex and SmartWork lines were all able to meet the stringent specifications of the Scania engineers particularly in terms of performance, efficiency and sustainability," commented Ho-Youl Pae, Hankook's chief operating officer for Europe.
This newly-announced original equipment cooperation with Scania is Hankook Tire's second OEM supply deal with a Volkswagen Group commercial vehicle company. The tyre maker began delivering the e-cube MAX, SmartFlex and SmartWork tyres to MAN Truck & Bus GmbH facilities in Germany, Austria and Poland at the start of last year. Brückner reports that Hankook currently supplies 36 dimensions to MAN, including eight for the TGL; 19 of these dimensions are new.
Hankook Tire's first major original equipment deal for the European market got underway in 2014 with supply to the Mercedes-Benz Atego. The company now provides Daimler with 42 tyre dimensions for Mercedes-Benz truck models, including the Actros, Antos, Arocs, Axor, Econic, and the Atego, the world's best-selling distribution truck, which receives 16 Hankook tyre dimensions. Hankook Tire is also an original equipment partner to leading European trailer manufacturer Schmitz Cargobull, and supplies 11 dimensions for its products.