IAA launch for Kumho electric vehicle tyre, self-seal on display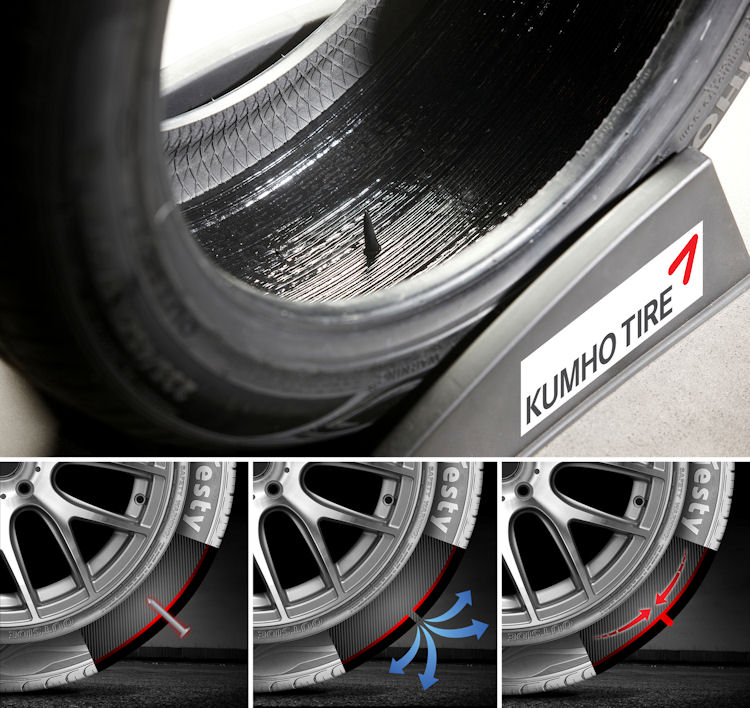 Kumho Tire has chosen the IAA motor show in Frankfurt as the launch venue for several new products, including the company's self-sealing tyres and tyres for electric vehicles.
The most notable new release, according to Kumho, is the Wattrun. The tyre has been specifically developed for electric vehicles and is said to be 25 per cent lighter than comparable existing products. Kumho also claims excellent wet road braking characteristics and low noise levels.
Kumho claims a Korean first with its new self-sealing tyres, which will be displayed alongside its new run-flat products. The company announced the launch of self-sealing tyres into domestic market products at the start of last year; 'K-Seal' technology was introduced into the Kumho Majesty Solus range and offers protection against punctures of up to five millimetres in diameter. Kumho has yet to give word of future K-Seal tyre availability in international markets.
Concept tyres on display include those developed for the Ssanyong SUV Tivoli concept vehicles, the XAV and XLV. The tyre developed for the XAV features a tread pattern modelled on the footprint of the mountain goat and is said to offer excellent traction, reduced noise and optimum driving ability on muddy terrain. The concept tyre developed for the XLV reportedly boasts superb wet weather performance while being notably quieter than rival SUV products.
"The globally renowned IAA serves as a crucial test bed for manufacturers wishing to enter the European market," commented Cheol-hwan Kim, Kumho's European managing director of sales. "As a leading Korean tyre maker of global presence, we constantly strive to improve brand recognition for our products in this all-important marketplace."