Evo tyre test – another win for Continental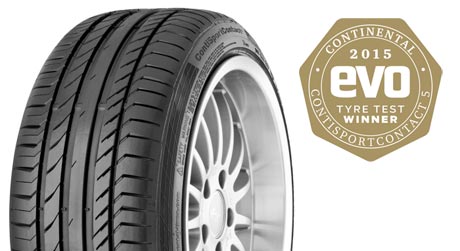 Recent ads from Continental cockily ask 'Who says you can't win them all?' The tyre maker raises a fair point – it has enjoyed a good run of test victories in recent times, with its ContiPremiumContact 5 topping the ADAC and Auto Bild tyre tests in Germany and the ContiSportContact 5 claiming victory in this year's auto motor und sport summer tyre test. Here in the UK, the ContiSportContact 5 was named top tyre in the recent Auto Express test of 11 size 225/45R17 tyres, and now evo magazine has named the ContiSportContact 5 winner of its summer tyre test – for the second year in a row.
In the test published in evo's October 2015 issue (number 213), the Continental tyre went up against nine other size 225/40R18 products. The tyres were fitted to a VW Golf GTI and evaluated at the Pirelli track in Vizzola, Italy for the usual criteria – wet and dry performance, aquaplaning, rolling resistance, comfort and noise. Subjective feel was given a high billing when it came to totting up the scores.
As well as being rated the best of the ten overall, evo's Dan Prosser judged ContiSportContact 5 to be the best tyre in a range of wet situations, dry braking and the tyre with the best steering feel. "The Continental managed to pull off a remarkable trick by performing superbly in both wet and the dry tests," states evo's review of the SportContact 5's performance. "Tyres are typically best suited to one or the other, but the Continental proved its unparalleled breadth of ability."
A suitably pleased Scott Benbow commented on the evo test's outcome: "We are delighted to have been commended by evo yet again, said the Continental product marketing manager. "The ContiSportContact 5 has taken the summer market by storm, with several tyre test wins this year, reiterating our leading position for safety."