Dunlop ready for Silverstone Moto2, Moto3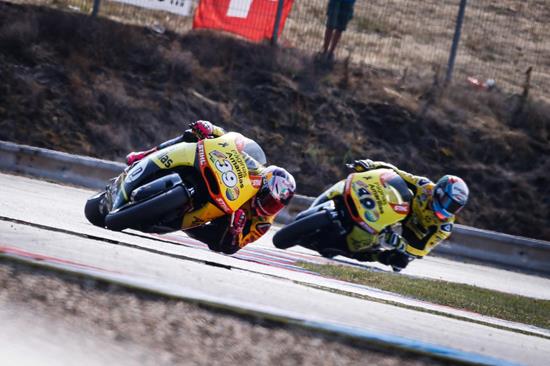 Dunlop is preparing for the 12th race of the year in the Moto2 and Moto3 World Championships on 30 August, as the series move to Silverstone. The eleven races have produced seven different winners in Moto2 and six different winners in Moto3 with seven races remaining. In 2014 both series only had six winners each over the full season showing that the intensity of the competition is getting stronger and with closer racing.
Silverstone's tyre choice is dictated more by temperature requirements than track surface, the manufacturer explains. The track is classed as medium energy but the long straights allow the tyres to cool on the critical outer edges and riders need to ensure that they take the tyre temperatures into account when deciding how they approach the following corners.
In Moto2, Dunlop will supply the 120/75R17 Soft 1 (black Dunlop on yellow background) and the Medium 2 (black on silver) for the front and the 195/75R17 Medium 2 (black on silver) and Hard 3 (yellow on black) on the rear. In Moto3, the front options will be 90/80R17 Soft (black on yellow) or Medium (black on silver), with 115/75R17 Soft (black on yellow) or Medium (black on silver) rear tyres.
Simon Betney, international event manager, Dunlop Motorsport, said: "Last year's races at Silverstone were some of the best of the year so hopefully we will see some more great action on track. It's particularly important to work closely with the Dunlop engineers at the track to make sure that the tyre temperatures are well managed so that riders can commit to the corners following the long straights with confidence."
In the 2014 season the Moto3 race was just over five seconds quicker than in 2013 and a new circuit best lap time was set during qualifying. Moto2 riders took advantage of the then-new '9855' rear tyre with 68 per cent choosing it for the race.
In Dunlop's #ForeverForward overtaking league, Romano Fenati was Brno's big overtaker, gaining 16 places and corresponding points. He moved up to second behind Philip Oettl while Livio Loi had another strong event for race progression moving up to third after finishing 18th having started in 32nd.
Simon Betney, international event manager, Dunlop Motorsport, said: "Last year's races at Silverstone were some of the best of the year so hopefully we will see some more great action on track. It's particularly important to work closely with the Dunlop engineers at the track to make sure that the tyre temperatures are well managed so that riders can commit to the corners following the long straights with confidence."