Chiltern Cold Storage chooses Michelin for first managed tyre contract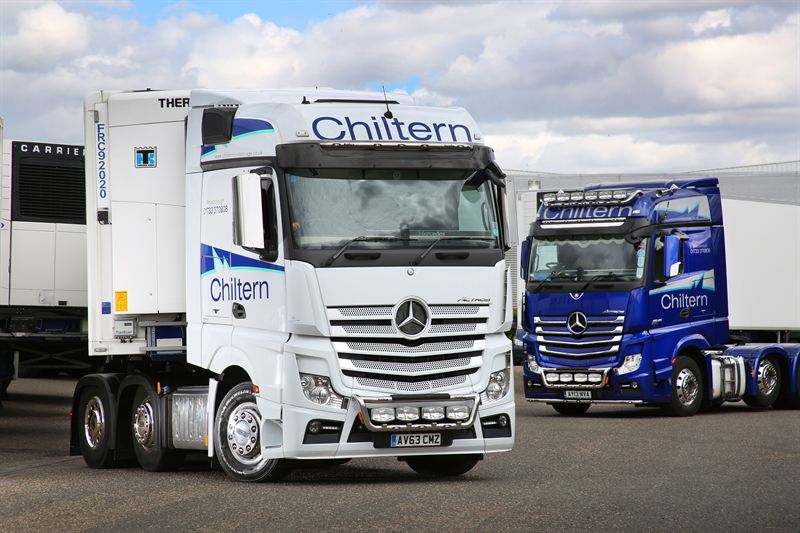 Temperature controlled logistics specialist Chiltern Cold Storage aims to improve fleet efficiency by adopting a fully managed tyre contract with Michelin Solutions. It marks the first time the company has outsourced tyre management for its 45 trucks and 43 trailers.
The Effitires contract will see Michelin solutions take care of all Chiltern Cold Storage's tyre requirements on a price-per-kilometre (PPK) basis for the next three years. This includes fitting the latest generation Michelin tyres, providing detailed management information on tyre performance, carrying out fleet-wide tyre safety inspections and proactive servicing.
Scott Mason, fleet manager at Chiltern Cold Storage, says: "Tyre performance is critical as we run an intensive operation, making hundreds of timed deliveries every single week. We constantly review our service providers and saw an opportunity to do something different with Michelin Solutions. I've had direct experience of outsourcing tyre management in a previous role, so I know first-hand the benefits this will bring."
As well as helping to protect against the risk of tyre-related downtime, Chiltern Cold Storage is also targeting fuel savings through its new tyre policy.
"We know the direct impact tyre choice and condition has on fuel efficiency – Michelin Solutions is focused on unlocking these savings with us. As a fleet manager, it gives me a lot of confidence to know we've got professionals focused on making sure every single tyre is maintained in peak condition. Plus they are planning to significantly increase our regroove rate, extending each tyre's life in its most fuel-efficient state."
Michelin Solutions has appointed ATS Euromaster to fit tyres and carry out tyre servicing, with ATS Euromaster's centre in Peterborough conveniently located less than two miles from Chiltern Cold Storage's main operating base. The customer will also have full access to the Euromaster network in mainland Europe to support vehicles making deliveries onto the continent.
Chiltern Cold Storage is a privately owned company and one of the UK's largest growing temperature controlled logistics providers. It specialises in providing storage, distribution and a range of bespoke services to customers throughout the UK and Europe spanning the food, pharmaceutical, medical and life science sectors.