NGK Spark Plugs (UK) cyclist raises £17,000 for Down's Syndrome Association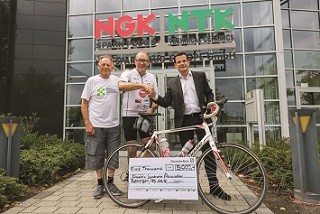 It was a case of on your bike with a vengeance recently for Stuart Bayne, who is sales manager – north for NGK Spark Plugs (UK) Ltd, as he has completed an 1100-kilometre sponsored cycle ride to raise more than £17,000 for the Down's Syndrome Association.
Starting from NGK's Hemel Hempstead headquarters he rode through five countries in just nine days to reach the company's spark plug factory at Meung Sur Loire in southern France, visiting NGK's European headquarters at Ratingen near Dusseldorf, Germany en route where he was presented with a cheque.
Stuart's journey was designed to help mark the 40th anniversary of UK ignition specialist NGK Spark Plugs (UK) Ltd which was incorporated as a subsidiary company of Japan in 1975.
The 51-year-old father-of-three from Haverhill, Suffolk, was supported in his quest by friend and customer Stuart Larder, of Sutton on Sea, who works for ME Autoparts, which has branches in Louth and Grimsby, Lincolnshire, who accompanied him and drove the support vehicle.
Stuart Bayne said: "It was really hard work, not just physically, but mentally, as each day I had to force myself to get up and get on the bike. A lot of the route was enjoyable as it was flat, but riding through the Ardennes Forest was a real challenge as it was hill after hill.
"It was a marathon endurance test, but fortunately I had done the necessary training so I felt OK and the adrenalin kicked in when I was tired. I am really pleased to have completed the trip and would like to thank everyone who has supported me, particularly Stuart who I couldn't have done it without, especially when the weather was hitting 38 degrees Centigrade and I was drinking 12 litres of water a day."
NGK Spark Plugs (UK) Ltd was a main sponsor and a number of NGK customers, colleagues and friends also pledged funds.
Marko Wowczyna, automotive director, NGK Spark Plugs (UK) Ltd, said: "We were delighted to support Stuart's fund-raising trip for such a worthwhile cause. He has done fantastically well to have completed the journey in such a short time and I'm sure he bears the scars to prove it."