Rollout of Michelin's global consumer tyre platform commences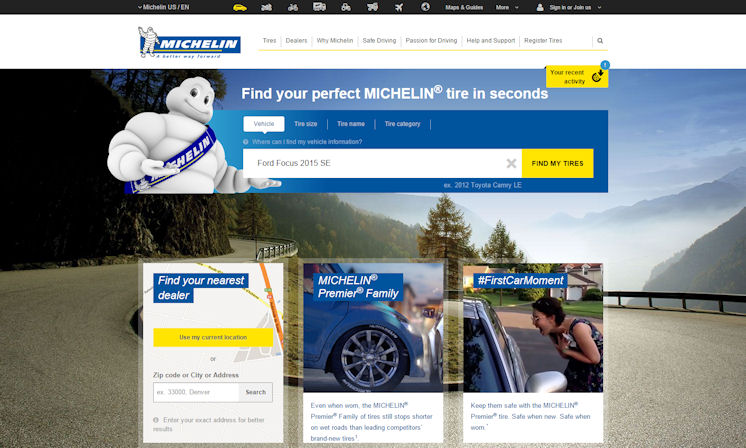 In future, prospective tyre buyers will be able to gain information about Michelin consumer products via a global platform. The tyre maker has begun the platform's rollout and gone live with it in the first market, the USA, at http://www.michelinman.com.
Michelin says its aim with the new digital platform is to simplify and enhance the online tyre shopping process. The platform features an open search engine – a feature the tyre maker describes as an industry first – that enables consumers to find suitable Michelin tyres by entering vehicle, tyre size, tyre name or product category information. Once a tyre has been selected, additional information is offered in the form of product details, a range of photos and user reviews. Direct online purchasing isn't available at the moment, and consumers browsing the now-live US site are instead provided details about tyre dealers in their local area that hold the selected tyre in stock.
"Our ambition is to streamline and make our website much easier for people to shop Michelin tyres. We want to assure the experience is gratifying for all consumers, whether they have a lot of tyre knowledge or not," states Olivier Chenevez, global marketing director for Michelin's passenger car and light truck business unit. "This is why we designed the new platform to be customer-centric, not tyre-centric. For example, tyre models are showcased in a way that is engaging, informative and easy to understand."
"We are excited to be the first country to roll out the new Michelin Man website for passenger car and light truck tyres," adds Dave Murtaugh, director of consumer experience/digital, Michelin North America. "Consumers use the internet to conduct their own research in advance of nearly all major purchases, and our new website will be a valuable tool that clearly provides the information customers need for purchase decisions." Michelin's global data indicates that more than 50 per cent of tyre shoppers now use the internet to research their purchases.