Another Luxembourg Green Product Award for Goodyear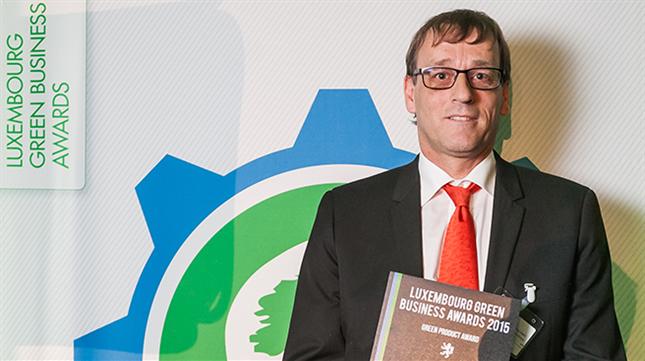 Goodyear has been awarded the Luxembourg Green Product Award for the third time in the Luxembourg Green Business Awards' five-year history. The award was handed over to Henk van Tuyl, technology directory for commercial tyres at Goodyear Europe, Middle East and Africa, during an event held in May as part of the Luxembourg Green Business Summit.
The award jury panel singled out Goodyear for a Green Product Award 2015 based on the merits of its FuelMax truck tyre and its IntelliMax Groove Technology. The tyre maker says the jury panel recognised Goodyear´s IntelliMax Groove Technology as a "major breakthrough" within the tyre industry. "We are delighted to receive the Green Product Award for our IntelliMax Groove Technology used in the FuelMax S," commented van Tuyl. "The recognition by the jury highlights our commitment to develop innovative technologies, tyres services and solutions reducing the environmental impact of road transport and at the same time helping fleets to cut operational costs."
The Luxembourg Green Business Awards reward best practices and market solutions. Principal evaluation criteria are innovation, strategy, behaviour, green products and services. Goodyear previously won the Luxembourg Green Product Award on two occasions: In 2014 Goodyear received the award for the Goodyear EfficientGrip Performance and in 2012 for the Marathon truck tyre range. In 2013 Goodyear won the Green Innovation Award for its Air Maintenance Technology (AMT), an in-built system that maintains a tyre's pressure without external intervention, and in 2011 it won this award for the Goodyear EfficientGrip passenger car tyre. With the receipt of this year's Green Product Award 2015, Goodyear has walked away from every Luxembourg Green Business Awards since 2011 with an award.
IntelliMax Groove Technology helps optimise rolling resistance. A special manufacturing technique allows a 'hidden' tread pattern to be moulded into the tyre. During the first part of the tyre's life the initial pattern, comprising three tread ribs, is exposed for optimised performance with minimised rolling resistance. As wear progresses towards 50 per cent, further grooves appear so that at midlife six ribs are visible. At approximately 75 per cent wear, four ribs remain to ensure wet grip performance right through the tyre's life.