Tag: Henk | van Tuyl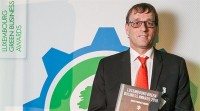 Goodyear has been awarded the Luxembourg Green Product Award for the third time in the Luxembourg Green Business Awards' five-year history. The award was handed over to Henk van Tuyl, technology directory for commercial tyres at Goodyear Europe, Middle East and Africa, during an event held in May as part of the Luxembourg Green Business Summit.
For the third time in five years, Goodyear's Europe, Middle East and Africa business unit has been acknowledged by the Luxembourg Business Federation (FEDIL). The latest honour, this year's innovation award, was given for the tyre maker's IntelliMax Groove Technology for truck tyres, which was first introduced on the Fuelmax S steer axle tyre.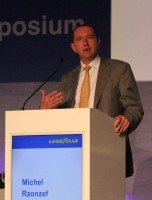 Just over six months since the last time Tyres & Accessories met Michel Rzonzef at the Geneva Motor Show, the Goodyear executive has switched segments. When we met before he was vice president of the Consumer Tire Business at Goodyear EMEA. Now he is vice president of Commercial Tires EMEA. So, with the move from consumer to commercial still relatively fresh, T&A took the opportunity to discuss the development and direction of the truck and fleet tyre business with Rzonzef during the course of the recent Goodyear Fleet Symposium in Brussels on 14 October. Henk van Tuyl, Goodyear's director of regional technology - Heavy Tires EMEA, also joined in with the conversation.