UK commercial vehicle production on the rise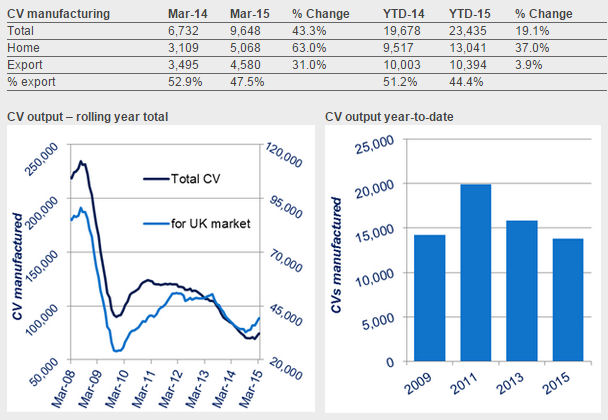 Figures released by the Society of Motor Manufacturers and Traders (SMMT) show an increase in demand for UK-built commercial vehicles. Britain produced 9,648 vans and trucks in March, representing an uplift of 43.3 per cent over last year. In the first quarter of this year, 23,435 commercial vehicles were produced, marking 19.1 per cent growth following reduced output in 2014.
The SMMT says this growth can be attributed to a particularly strong home market and a ramping up of volume production to meet demand for new to market vans. The UK's CV sector saw a record quarter for registrations with 108,456 van and truck orders fulfilled. This has translated to a 63 per cent upturn in production of UK-built vehicles in March and 37 per cent over the quarter, with light commercial vehicles accounting for more than four fifths of output.
In further evidence of the sector's return to form, the export market has also posted growth of 31 per cent in March and 3.9 per cent this quarter. This is in part due to a recovering European market, which has seen an 8.8 per cent increase in registrations so far this year (based on ACEA commercial vehicle registration data for EU28, January and February 2015).
"The commercial vehicle sector has enjoyed a strong resurgence so far in 2015 after a subdued couple of years," said SMMT chief executive Mike Hawes. "Driving this readjustment is a home market invigorated by new product, increased consumer and business confidence, as well as an upturn in demand for UK-built vans and trucks across Europe.
"This growth will help return the sector to a stable natural level following major restructuring of the industry in recent years," Hawes added.