European truck tyre manufacturers losing ground to imports, says ETRMA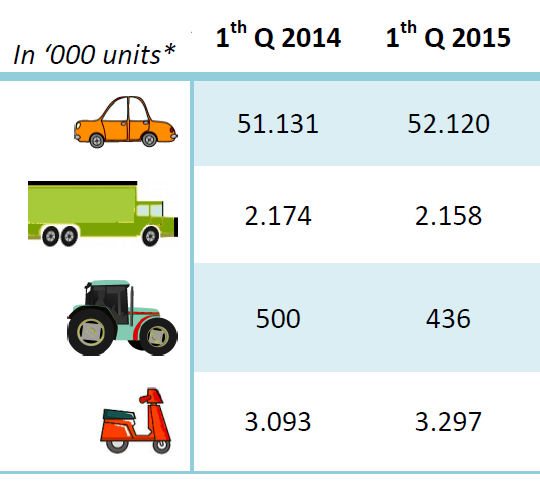 The association representing tyre manufacturers in Europe says its members experienced "mixed results" in the region's replacement market during the first quarter of 2015. While companies belonging to the European Tyre and Rubber Manufacturers' Association sold more passenger car tyres (up 1.9 per cent to 52,120,000 units) and motorcycle tyres (up 6.6 per cent to 3,297,000 units) in the first quarter of 2015 than a year earlier, both truck and agricultural tyre sales were down compared with the corresponding period in 2014; ETRMA members' truck tyre sales decreased 0.74 per cent to 2,158,000 units and agricultural tyre sales dropped 12.8 per cent to 436,000 units.
Association secretary general Fazilet Cinaralp commented that "the most noteworthy results probably regard truck tyres, whose sales started decreasing in mid-2014." Ms Cinaralp added that this trend is continuing in the current year. "At the same time, imports for this segment in the same period to the EU, and in particular from China, have increased markedly over the last 12 months and continued to increase in January 2015."
Sales of imported truck tyres in Europe increased 41.7 per cent year-on-year in 2014 and reached a total of 3,985,740 units. Import truck tyre sales came to 525,487 units in January 2015, 16.5 per cent higher than in the first month of 2014. Imports of truck tyres from China rose even more sharply in 2014, rising 50.1 per cent year-on-year to 3,471,368 units (61.5 per cent of all imports), and sales of Chinese truck tyres reached 355,378 units in January 2015 (67.6 per cent of all imports), up 24.0 per cent from a year earlier.
The ETRMA's tyre manufacturer members include Apollo Vredestein, Bridgestone Europe, Brisa, Cooper Tires, Continental, Goodyear Dunlop Tires Europe, Hankook, Marangoni, Michelin, Mitas, Nokian Tyres, Pirelli and Trelleborg Wheel Systems. Industry associations in Belgium, Finland, France, Germany, Hungary, Italy, the Netherlands, Poland, Spain and the UK also maintain ETRMA membership.