ETRMA tyre sales up 2-3 per cent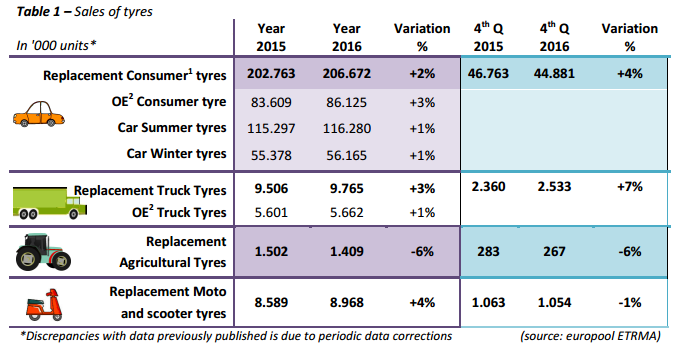 On 23 January the European Tyre and Rubber Manufacturers' Association published its members' sales for the year 2016 and the last quarter of 2016.
Consumer tyres were up 2 per cent in 2016 – despite minor fluctuations during the third quarter and with a strong performance in the last quarter (+4%). OE consumer tyres sales followed the performance of new car registrations, albeit it more slowly, rising 3 per cent.
For the truck tyre segment, the total 2016 sales were positive (+3%) for the fourth year in a row and sales were particularly good in the fourth quarter (+7%). The OE truck tyre market also grew, in line with sales but only slightly.
Sales of motorcycle and scooter tyres were up 4 per cent by the end of 2016.
Agricultural tyres sales continued to experience, a consistently negative trend, down -6 per cent during 2016.
"All in all, the outcome of 2016 is in line with the expectations and normal for a mature market" said Fazilet Cinaralp, secretary general of ETRMA: "for 2017, it is difficult to hope for a greater growth, especially given the continuous growth of imports, which will be confirmed also for 2016".
ETRMA also published the 2016 statistics booklet, which contains data on the European rubber and tyre industry, including employment, production, trade and natural rubber consumption.